I received the below mentioned complimentary product for the purpose of this review. All opinions and thoughts are 100% my own.
     My husband and I both still smoke. I know it is bad for your health and so on and so on. I also know just how expensive it is. It seems every time they need to raise taxes that they pick cigarettes or a one of a smokers product. This is why I was thrilled beyond belief when the opportunity came about to review the Deluxe Electric Cigarette Roller Rolling Machine in black.
     Eric, My husband wanted to see if it would be profitable for us to start rolling our own cigarettes. So he bought a very inexpensive manual rolling machine which he ended up liking but it took a lot of time to roll enough for a day. I suggested he think about an electronic machine but I knew nothing about them so I headed to amazon to see what they offered. There were quite a few machines available. All ranging from different price ranges and different methods of delivery. We were really drawn to the Top Power I Plus Electric Cigarette Injector Machine Deluxe Electric Cigarette Roller Rolling Machine in black(It's full name) but I will use "Deluxe Electric Cigarette Roller Rolling Machine" for short.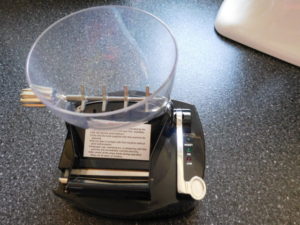 The Deluxe Electric Cigarette Roller Rolling Machine is sold on Amazon.com by The Camels Merchant.I cannot tell you enough just how awesome their customer service is. They were always there to help me with any questions or issues I had and beleive me there were not that many. They want the customer to be completely satisfied and I am. Some of the features I really liked about this product are:
t
Huge Tobacco Hopper,filling the tobacoo faster!

Improved Gear Quality!

Amazingly Simple Operation!

Increased Motor Speed!

Makes King Sized & 100mm Cigarettes!
Check out this very short video of Eric using this machine
     You have to admit that buying a pack of cigarettes these can make you go broke. My husband jokes about having to take out a small loan to afford it but not now. There are a ton of brands that sell the tobacco in a variety of flavors and the tubes are really cheap. With the Deluxe Electric Cigarette Roller Rolling Machine, Eric has it down to a science. He tells me that he can roll a pack in a matter of 10 minutes. If you plan to roll your own cigarettes, Then you WANT this machine! I give it my highest recommendation and my thumbs up for this product.
Tammie~