I received the below mentioned complimentary products for the purpose of this review. All opinions and thoughts are 100% my own.
     Do you know of any brand that gives back? These days this is unheard of as everyone wants to make a profit and who could blame them. This is why I was thrilled when the opportunity came about to review products from Newman's Own Organics. This is a company that is very near and dear to my heart as you will find out as you read on just how much they give back.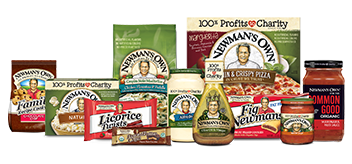 About Newman's Own Organics products~
All its products meet the requirements of the US Department of Agriculture's (USDA) National Organic Program (NOP). For more information on Newman's Own Organics products visit www.newmansown.com. If you look under the food section and the categories: snacks, candy & mints, chocolate, cookies, olive oil/vinegar, coffee, tea, and pet food can find out more about each of the products.

Newman's Own Foundation continues Paul Newman's commitment to donate all royalties and after tax profits from these products for charitable purposes. Paul Newman and Newman's Own Foundation have given over $470 Million to thousands of charities since 1982. Learn more at www.newmansownfoundation.org..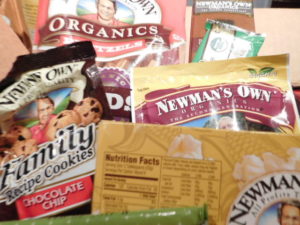 When the box arrived, I could not wait to open it as I could not wait to see what goodies were in it. Once I got the cats and dog away, I was able to tear into the box. I was in awe as I think I was going to sample everything that Newman's Own made. Now I am sure that everything they make was in this box but almost everything! As you can see by the above pictures, There was dried cranberries, pretzels, licorice, all sorts of cookies, popcorn, chocolate- milk and dark, fruit filled cookies and so much more! I loved everything we sampled. one product was better than the next. They were both flavorful and tasty. What was surprising was how fresh they tasted. You better beleive that I will be looking for this brand in my local grocery store as we love everything about this brand including how they give 100% of their profits to charity! I mean who does that in this day in age? I give Newman's Own a thumbs up and I highly recommend them.
You can stay up to date on all that they offer by following/liking them on their Website/Facebook/Twitter/
Tammie~