I received the below complimentary product for the purpose of this review. All opinions are 100% my own.
     Do you own a condenser for such things as whole house air? I never ever thought I would be owning a house let alone have whole house air. Those window air conditioning units did the job well enough but left much to the imagination. Now that I have whole house air, You have to think of more than just having it. You have to think of how to keep it working like how to manage the condenser in the winter.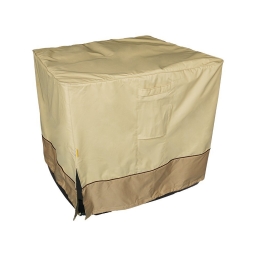 I bought a square cover as that is what we have but they do sell round ones as well. Here are a few features about the cover:
Keeps rain, snow and leaves out of vents in off-season.Made of heavy duty polyester with Vinly coating.Double stitched seams, air vent system design.One year limited warranty
Model A: Fit round air conditioners 34″ in diameter x 30″ high
Model B:
 Fit square air conditioners 34″ long x 34″ wide x 30″ high
     How awesome is that to have a one year warranty? This was the perfect addition to keeping our products in check and working properly. Also having an expert check it out before you start using it is a pretty good idea too.
Do you cover your air conditioner in the winter?
Tammie~