The Benefits of Switching to Epilating
If you're tired of having to shave almost every time you have a shower, it might be time to consider switching to using an epilator. Similar to waxing, epilation means that your hairs will be pulled out from the root, leaving a nice and smooth finish that lasts longer than simply shaving the hairs off with a razor. With salon waxing prices on the rise and hair growing back before you've even gotten out of the shower, it's time to learn about the many benefits of switching to using an epilator.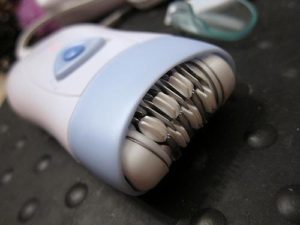 Photo by Amy
It's Cheaper
Using an epilator can work out to be much cheaper than going for regular professional waxing, and can even work out to be cheaper than shaving regularly with a disposable razor in the long run. Waxing can be an expensive procedure if you want to ensure that the end results are good, however, when you buy an epilator you pay a one-off price for a machine that'll produce much the same results as a salon wax. If you choose a good epilator that can last you many years, depending on how many packets of disposable razors you buy per year, you could end up saving money that way too! See this epilator buying guide for more information on making the right choice.
Better Results
The thing about shaving is that it doesn't pull the hairs right out – it just shaves them down to the roots. This is why shaved hair grows back faster than hair which has been removed by waxing. Epilation results tend to last for around three to six weeks, depending on your rate of hair growth. This means that you'll have longer to go in between hair removal sessions with silky smooth skin, less chance of irritated skin, shaving rash and other shaving-related problems, and less worrying about hair regrowth.
Convenience
Another of the main reasons why more and more women are opting to purchase an epilator over waxing or shaving is that they are very convenient. If you've ever been in a situation before where you really need your legs to be smooth and soft but you can't get a waxing appointment for a few days or even a week, you'll know how frustrating it can be. Or, perhaps you plan to shave your legs, only to find once you've gotten in the shower that you've ran out of razors. The best thing about an epilator is that there's no need to book an appointment and they don't run out – simply plug it in and you're ready to go! This makes it really handy – whether you've got an out of the blue date coming up and plan to wear a dress or are going on holiday and want to make sure that your bikini line is tidy the whole way through.
With so many different hair removal methods available, why choose epilating? Not only is it easy, it can also be more affordable, more convenient, and also has some of the best and longest-lasting results.
Tammie~