I received the below mentioned complimentary product for the purpose of this review. All thoughts and opinions are 100% my own.
     Does your car suffer from road rash? My husband rarely tells me when he has a little ding with the car. A 54 year old who races through a gravel lot at a high rate of speed and gets road rash on the car because all those little pieces of gravel flew up in the air and made their mark on the sides of our car. I was thrilled when the opportunity arose to review Chipex- A revolutionary paint chip Repair system.
     The trunk of our car looked like a speckled apple that was consumed by bugs that left pits and holes on it. Not to mention the water that was getting under the paint, It left orange colored dots on the trunk hood. It takes an awful lot to sway me that a product does actually work but Chipex below my mind away. First, We followed the instructions exactly. I want to show you by my before and after photos below just how much of a difference this made. The Chipex paint chip repair system comes with everything you will need to touch up the paint on your car. Traditional touch-up paint cannot achieve a repair as simple and seamless as this. Another great point that I love is that it is guaranteed!
The Chipex Guarantee
100% Color-match guarantee
Treats stone chips & scratches
Fast, simple & safe to use
Enhances vehicle resale value
Prevents rusting
     I forgot to tell you that they even get your exact color by computer matching it and hand mixing it and them delivering it right to your mail box.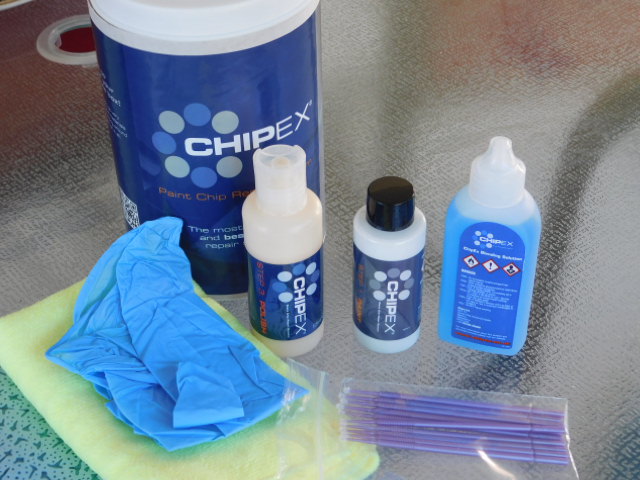 This is what came in the Chipex paint chip repair kit/system
     Just look at the difference on this trunk hood! I was so amazed at the difference. Yes, Eric missed a spot but that makes you really see the difference. There is even a spot where he scraped a fence on his way home from work: See the picture below on how it just made that spot disappear.

      Please show Chipex some love by visiting, following, liking and ordering from them your very own Chipex paint chip repairing system. The Chipex Website, Facebook, Twitter, Google+ and Pinterest.
Onto The Giveaway~
Please enter on the widget below to win a Chipex Bundle~