I received the below mentioned complimentary product for the purpose of this review. All opinions and thoughts are 100% my own.
     You are going away for the weekend. Do you take that big bulky suitcase or do you take that small carry on that has not any room for any of your items? That would be my take on it. This is why I was so very thrilled for the opportunity to review the 
TravelWise Packing Cube System
– Durable 5 Piece Weekender+ Set sold by eat smart.
     When you have a guarantee like this, I would not have any issue purchasing this product. I mean what do you have to lose but let me tell you about the 
TravelWise Packing Cube System
– Durable 5 Piece Weekender+ Set sold by eat smart, It is now my go to product for packing for a trip. 

 

EatSmart Products, a leading designer and manufacturer of innovative health care products, would like to introduce you to our TravelWisePacking Cube System – Durable 5 Piece Weekender Set.
The TravelWise 5 piece packing cube set is a travel essential that allows clothes to stay folded and neat when packed in their own "small drawers". The cubes are fantastic for staying organized on both short and long travels and help avoid over packing.

     Constructed of lightweight, durable nylon, these multi-sized cubes allow you to compartmentalize similar items such as shirts, pants, swimsuits and electronic accessories to streamline packing. The open mesh top makes searching for misplaced items a thing of the past and our five color choices allows each traveler to have their own individual set.
Available in five colors, BLACK, SILVER, RED, TEAL and PURPLE, each set includes (1) small, (2) medium and (2) large cubes to organize different sized items when traveling.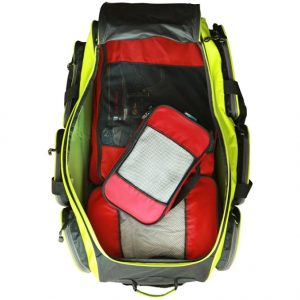 What makes our Packing Cube System a great gift?  Whether you're shopping for a frequent flier or an annual vacationer, they will appreciate a product that makes traveling easier and less stressful.
     Either I pack way to much for a weekend or a week, Or I don't pack enough. There is never a happy medium. What I end up doing is stuffing items into bags and they come out looking like they were stuffed in bags. That was until now that I have the TravelWisePacking Cube System – Durable 5 Piece Weekender Set. It makes packing much more stress free. I make my list and put the items into the individual cubes. I totally love this system and I knew you will also. It is very affordable and will not break anyone's budget.
Some of the features I love about this are:
5 Piece Weekender Plus Packing Cube Set (1 Small, 2 Medium and 2 Large Cubes) let you compartmentalize similar size items and provide optimum utilization of interior luggage space. New deeper pocket design for 2014!

EXTRA DURABLE – Constructed of high-quality nylon fabric; Both lightweight yet durable with 2 way easy-pull zippers

EASY TO USE – Open mesh design makes it easy to locate items – No more hectic searching for misplaced items

ARRIVE ORGANIZED – Clothes no longer shift in transit! Clothes stay neat and tidy in their own small drawers

OUR GUARANTEE – TravelWise 100% Satisfaction Guarantee; Call or email anytime for support.
     I give this product my highest recommendation and my thumbs up. This would make a great Christmas present.
Tammie~