I received the below mentioned complimentary product for the purpose of this review. All opinions and thoughts are 100% my own.
     Do you have a scale in your bathroom? Every bathroom needs a scale of which I did not own. I was thrilled when the opportunity came about to review the Etekcity Black Digital Body Weight Scale. I really thought all scales were the same until I received this product.
About Etekcity~
Etekcity is an internet-based retailer/wholesaler serving a large customer base in home improvement, consumer electronics, and outdoor equipment. For lower costs and higher efficiency, countless hours have been put toward optimizing our operation and improving our supply chain management. Etekcity's customer support ensures customers receive the best value and service among eCommerce brands.

Customers are always put first; the boldness and loyalty of our customers have made Etekcity what it is today. We work every day to give customers the highest-level shopping experience by offering a user-friendly website, delivering products as quickly as possible, and by providing high-level support on our quality products.

Etekcity products are designed to simplify life, whether it be a faster, more seamless connection via NFC or giving someone the ability to control their appliances with a remote from across the house.

Employees at Etekcity are hard-working and highly appreciated. The enthusiasm and passion every employee brings with them to work each day creates a cohesive unit, bringing the world unique products.

Etekcity and all our employees have a dream to make our customers' lives easier and more enjoyable.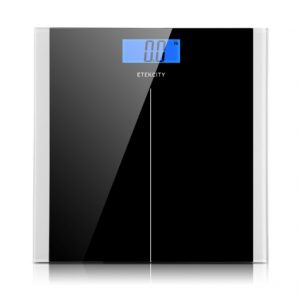 Now that we own our own home including our bathroom too, I wanted a scale to keep in there as I was never able to have one in the other bathrooms where we lived previously. The other bathrooms were so very tiny and outdated. Believe it or not but it means the world to me to be able to display this awesome scale in my bathroom. Some features I love about the Etekcity Digital Body Weight Scale are:
"Step-and-Read" – Immediate readings as soon as you step on the bathroom scale; Measurement Range:11lb-400lb (5kg-180kg)

High accuracy – 4 latest-version high-precision sensors, using technology from Germany

Multifunction – Auto-power-off, Auto-zero, Low battery and overload indication, easy to read backlit LCD display

Safety and comfort – 6mm thick tempered glass provides exceptional sturdiness; Large 12″ x 12″ platform for your usability

Wide application range – Max weight capacity of 400lb /180kg; graduation increments of 0.2lb /0.1kg; 2 available units of measure: lb, kg; CE/ROHS Approved; 1-Year Warranty by Etekcity  
     Last year, I lost 25 pounds. I was so very excited because I now fit into a whole new wardrobe. I still have 25 to go but now with the Etekcity Digital Body Weight Scale, I can monitor just how close I get to my optimal weight. The Etekcity Digital Body Weight Scale does it all and all so easy. I just have to stop on it and it automatically does it's thing. I can now know my exact weight in the comfort of my own home. I know you are going to want one for your own or for someone on your gift list. There is now an awesome sale going on for this scale. You can purchase one by going HERE. I give it my highest recommendation and my thumbs up.
YOU CAN STAY UP TO DATE BY LIKING/FOLLOWING Etekcity ON THEIR WEBSITE/FACEBOOK/TWITTER and Instagram
Tammie~