I received the below mentioned complimentary product for the purpose of this review. All thoughts and opinions are 100% my own.
Do you have a bowl that literary can be used for everything? For my dinner dishes-I have all white dishes and I think the look elegant but boring. This is why I was thrilled when the opportunity arose to review the DOWAN 5.5inch Stoneware Bowl Set. I thought they would make a very nice contrast to my all white dishes.
 About The Company~
DOWAN is one of the world's largest supplier of ceramic glazed dinnerware, which is noted for its healthy and sturdy material, and its range of solid, bright colors.

Based in Chaozhou, China, the well-known hometown of ceramics, DOWAN is the most reliable online table top supply store serving professionals and individual customers worldwide. With a variety of available products and over 1 million loyal customers, we have everything you need to function at its best.

Our focus is your 100% satisfaction – order online from your laptop, desktop, or smartphone 24 hours a day, 7 days a week. Our hassle-free shipping, low prices, and outstanding customer service make DOWAN the best choice to meet all of your professional and food service supply needs.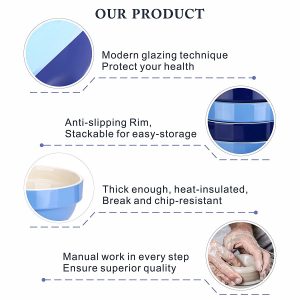 My Review~
When I took the DOWAN 5.5inch Stoneware Bowl Set out of the box, Ideas came swirling into my head of all the ways I could use these bowls. They are the perfect size to be used as a cereal bowl, a soup bowl, a snack bowl, a knickknack bowl, a jewelry bowl, a salad bowl and so much more. These bowls are the perfect size and the perfect color. I think the color is more of a neutral color and it goes with almost everything in my home. I am in love with these bowls. When I set my dinner table, They look amazing paired with my white dishes. I have gotten a ton of compliments on these. I know that several of my family members stated that they plan on buying some. You can too by going HERE. You have to know that these are being sold at the lowest price because they are sold on Amazon.
I give this company and their product my thumbs up and my highest recommendation. You can follow them on Facebook to keep up to date on all of the new products and deals they come out with.
Tammie~