I received the below mentioned complimentary product for free or a discounted price for the purpose of this review. All opinions and thoughts are 100% my own.
How fresh are your spices? This is a question that I really never thought about. I mean I would just go to my local grocery store and buy the cheapest right off of the shelve. I thought all spices were created equal but was I wrong. This is why I was thrilled when the opportunity came about to review spices from the RawSpiceBar.
About RawSpiceBar~
RAWSPICEBAR WAS CREATED OUT OF A LOVE FOR quality ingredients, fresh flavors and, most importantly, for home chefs who love cooking global dishes.

A BETTER WAY TO COOK- Like most of you, we've had to choose between over-priced, over-sized, pre-ground spices that have lost their flavor before even hitting store shelves. We knew there had to be a better way, so we created RawSpiceBar to return to the basics: great flavors at a great price.

OUR MISSION IS TO GIVE YOU THE BEST POSSIBLE FLAVOR EXPERIENCE- AND ALWAYS AT A FAIR PRICE. BY SOURCING HIGH QUALITY, WHOLE INGREDIENTS WE OWN THE ENTIRE PROCESS , FROM SOURCING, TOASTING, GRINDING AND BLENDING, WE ARE ABLE TO DELIVER THE FRESHEST, READY TO USE FLAVOR KITS DIRECT TO YOUR DOOR.

We source the highest quality ingredients. Then, we toast and grind each individually to draw out eye-popping aromas and deep, complex flavors. Then, we expertly blend each ingredient to create the characteristic tastes of each region's unique cuisine profile. Bringing these flavor blends into your own kitchen can lend authenticity to global recipes and provide creative inspiration for everyday cooking. Lastly, we perfectly portion each flavor kit so you can make a dish serving 3-4- no need to let these flavors sit in your kitchen shelves. Ready for this trip across the globe? No passport required!
I received Unpumpkin Pie Spice and Punjabi Garam Marsela spices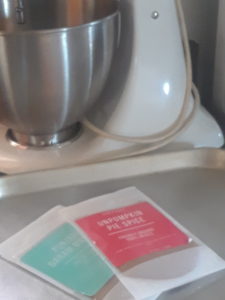 My Review/Thoughts & A Recipe~
When I used to buy spices, I just buy the cheapest as how fresh could they really be but that was until I found RawSpiceBar as can you beleive that they grind them up right before shipping them to you? Now that is just plain insane. I opened some of the old spices I have and then opened RawSpiceBar spices and I could not beleive the difference in both fragrance and taste. RawSpiceBar wins hands down. Not only did they make my recipes taste so much better they also made me a better cook and baker. When I first started using RawSpiceBar spices, They came in small bags/packaging but now they have evolved. They now offer a full size subscription service that I know you are going to love. Just think of it- Getting full size, freshly ground spices delivered right to your door.
I would of loved to get this as gift for the holidays and speaking of that, This would be the perfect gift for anybody on your list.
I give this brand and their products my thumbs up and my highest recommendation.
Tammie~