I received the below mentioned complimentary product either for free or a discounted price. All opinions and thoughts are 100% my own.
What do you do in bed? Silly, I know but I do a lot of things in bed that that a hard surface would make it so much easier for me. This is why I was thrilled when the opportunity came about to review the NNEWVANTE Large Bed Tray.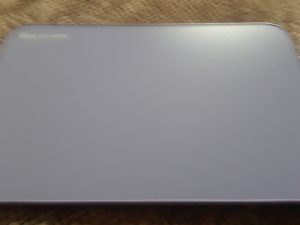 About the NNEWVANTE Large Bed Tray~
Large Bed Tray- 17 inch laptop is a piece a cake. Enough room for you to place you large size laptop or you big book when you struggles in the homework. 24.01*14.86 inch(L*W)

Portable: Due to it foldable, you can storage it at the back you sofa( small interspace) indoor and take it to you outdoor camping

Variety of Roles in daylife: It is a breakfast tray if you like to enjoy your morning in you bed; It is a Camping Table if you have a nice tray with your family/friends; It is a kid/student's homework assistant that it big enough to place your reference book or pens/pencils. It is also an office table when you want to released from long tired sitting, you can stand up to work. It can be used on bed, sofa, couch, office desk, indoor or outdoor.

Special design of Legs: our desk's big leg "shoes" increase the contact face with floor.

In the chilly winter, how comfortable if we can play with phone/ computer in the warm bedding. Hiding at home, See the world.

My Thoughts/Review
I have never liked a bed tray more than I love the NNEWVANTE Large Bed Tray. I love how the legs are so simple to fold out and in for easy storage. The surface is smooth with a label in one corner of it. I can eat breakfast, perfect for my laptop and even for just things as playing cards or a game on it. The NNEWVANTE Large Bed Tray is perfect for young and old. You need this in our house.
I give the NNEWVANTE Large Bed Tray my thumbs up and my highest recommendation. You can go HERE to order one for yourself.