I received the below mentioned complimentary product either for free or a discounted price for the purpose of this post. All opinions and thoughts are 100% my own.
I own many blenders and juicers but none of them small enough to do a simple mix. I was thrilled when the opportunity came about to review the MCHATTE Portable Blender.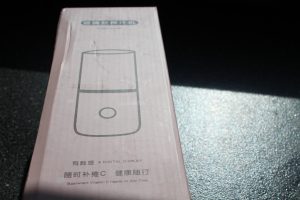 About The Product~
ULTRAVIOLET DISINFECTION LAMP OF PORTABLE BLENDER: After use, press and hold the power button to turn on the disinfection mode, an ultraviolet disinfection lamp, It's safe and healthy.

POWERFUL AND RECHARGEABLE OF BLENDER JUICER CUP: Blend fruits, baby food, vegetables, etc. within 20 seconds, max speed 18300 rpm. 3600mAh rechargeable battery, easily charged by power bank, laptop, computer, or other USB devices. It's very portable and great for traveling outdoor.

SMART DISPLAY DESIGN OF PORTABLE JUICER CUP: click the switch to display the power, double-click the switch to start the 20-second countdown to blend.

CUP SEPARATION DESIGN OF PORTABLE BLENDER: After separating the main engine of Portable Blender , It becomes a sealed cup, which is convenient for refrigerating, on-the-go, Office, and Travel.

SAFETY AND FOOD GRADE MATERIAL: Personal blender, safe for babies to drink from with an Enhanced ABS resin bottle(FDA, BPA Free), Contains 6 blades made of 304 stainless steel, an in-cup design to prevent accidental finger cuts.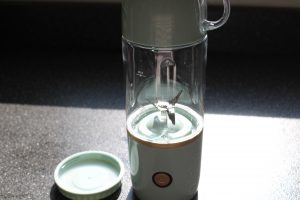 My Review/Thoughts~
The other blenders I own are to big. To big to take with you. To big to make 1 or 2 drinks or fruit cups. To big to stick in my purse. The 
MCHATTE Portable Blender is perfect for anyone who is trying to eat healthier or is just on the go. Super simple to operate and set up. Price is very affordable. The 
MCHATTE Portable Blender even has it's own cup. You can go HERE to buy one for your very own. Makes the perfect gift.
I give the 
MCHATTE Portable Blender my thumbs up and my highest recommendation.