As a female, I love everything jewelry. As a small business jewelry owner, I am very critical of anything that has to do with jewelry. I cannot wait to tell you about this amazing company I have found. Have you ever thought about signing up for a monthly subscription service where you you receive a pouch of amazing jewelry delivered right to your home? With all the current restrictions due to Covid, People just aren't shopping in stores but online and and evening having their groceries delivered to their house.
Glamour Jewelry Box is a monthly subscription service that delivers that delivers trendy jewelry pieces directly to your mailbox at an affordable price.
Finding trendy jewelry pieces at an affordable price can be inconvenient and time-consuming, which is why the sister founded team, Jan and Hetal created Glamour Jewelry Box, a way to add the perfect jewelry pieces to your wardrobe every month…
 Monthly jewelry subscription box delivered straight to your door!
 $55+ worth of retail jewelry in each collection for only $34/month!
 No Commitment: skip/cancel anytime & free shipping!
This subscription makes for a perfect gift! Each month our members receive 2 pieces of trendy jewelry including a necklace, bracelet, and earrings from up-and-coming boutique designs such as Madison Parker, Sophia Collection, and Ashland Ave. Here is our site to get an idea of the various styles we send our members every month: 
Glamour Jewelry Box
Available in gold/rose gold, silver, or a rotation of both every month.
Take a look at what I received as my Glamour Jewelry Subscription delivery~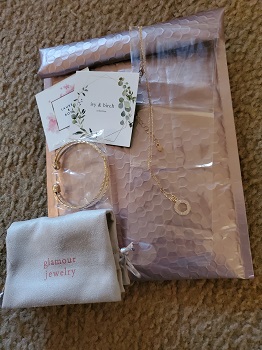 My favorite piece as I am addicted to anything Rose Gold~ Check out the cute little pouch that the jewelry arrives in.
I absolutely love the pieces I received as I love using different pieces of jewelry to change up my outfits but don't get me wrong as I am one of the most frugal people you will ever meet. I don't have a lot of money to just send it anywhere but the Glamour Jewelry Box Subscription service is a place I can sign up for that does give me more bang for my buck. You need to check it out as I would never steer you wrong.
Tammie~