I received the below mentioned complimentary product for the purpose of this review. All opinions are 100% my own.
     Do you use a salad spinner? I am old school and by that I mean that I tear off a piece of lettuce, wash it and then dry it in a paper towel. When I was offered the wonderful chance to review the Orezi Salad Spinner, I jumped at it, Why? #1- It will save the earth from all those paper towels and #2- Think how much time it will save me.

     I am so very happy for the chance to review this salad spinner by Ozeri. It has changed the way I wash my veggies-manly lettuce. Most of the other salad spinners I have used had a string pull system that my husband has broken with the very first pull. I think that is why I was turned of by them but the Ozeri spin system is different in that it has a handle the you push on to make it spin.
     Designed in Switzerland and boasting frictionless spin action, the effortless BPA-free Ozeri FRESHSPIN Salad Spinner delivers unparalleled performance and ease-of-use. The Ozeri FRESHSPIN Salad Spinner's features a large 4.2 qt / 4 L colander that accommodates all your greens and herbs. The 5.5 qt / 5.2 L bowl doubles as an elegant serving dish. Perhaps the easiest salad spinner ever made, the Ozeri Salad Spinner requires no more than 2 or 3 pumps to reach its max spin velocity without the disruptive noise common among other spinners. Simply push once on the large brake button to instantly halt the spinning and remove the colander. The colander and bowl can be used separately and are both dishwasher-safe. The Ozeri FRESHSPIN Salad Spinner's handle locks into place for quick storage.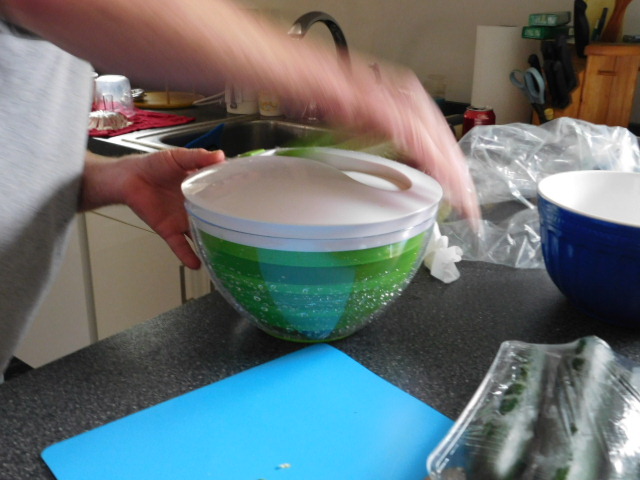 I cannot tell you enough just how much this Ozeri salad spinner has changed the way we now wash our greens. Go ahead Eric-Let's see you break this one! I doubt it! I love that it only takes 2-3 pumps to spin it dry. I give the Ozeri salad spinner my thumbs up and I highly recommend it. This can be bought on Amazon.
Tammie~