Publicizing school events:
I love volunteering for school events. It keeps me connected with my kids, and I truly enjoy the company of the other parent volunteers. But when we work on posters and flyers, cutting out the letters, gluing, pasting, cleaning up the scraps… I'm not gonna lie, it's a lot of work, gets pretty messy, and yeah – it's EXHAUSTING. One afternoon, after my hand cramped for the umpteenth time, I stepped away from the School Fair poster I had been working on.
While I was enjoying my "break," I decided to check my email. The DIY gods were on my side or something, but my my sister-in-law happened to email me some info about a site called PosterMyWall! So I clicked on the link, and… OH EM GEE. I had found my poster-making BFF!
The site offered all these awesome templates, including a category for school templates. Winning! I ditched the paper version I was working on, and using the site's online tools (we're talking backgrounds, images, filters, etc.), I made a new poster in minutes!!!
I shared my new masterpiece with the committee I was currently working with, and we decided to order a test poster. Our 24×36″ poster shipped pretty quickly, and we loved it so much, we also ordered the digital download to upload to the school's website. If you wanna see what other products PosterMyWall offers, check out this page: http://www.postermywall.com/index.php/g/classroom-posters
So if you enjoy DIY projects but want an easier, quicker and less-messy alternative, check out PosterMyWall. User-friendly and budget-friendly, it may just become your new BFF too!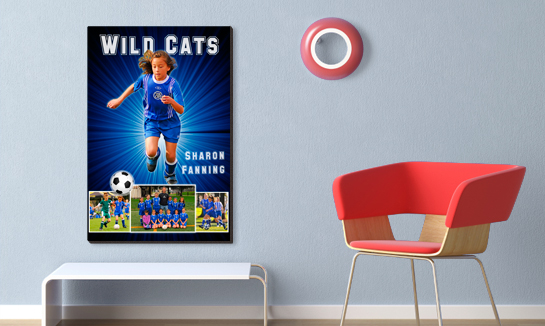 Advertising for fundraisers:
I love fundraisers and volunteering for fundraising committees. But these days, even the seconds are full, thanks to two toddlers, a full-time job, and the occasional urge to enjoy some "me" time. I needed a quicker way to market upcoming fundraising events, because DIY projects a la Pinterest are fun, but they take TIME. And boy oh boy, time is of the essence these days.
One afternoon, as I took a quick breather from errands, I turned to Google for a little help. During my search, I discovered PosterMyWall! After taking a "tour" of their site, I found a variety of templates that I could use to advertise my upcoming events. WOOHOO!!! I finally found a way to create some pretty cool posters and flyers that didn't require too much time or super duper artistic talent.
Even better, PostelrMyWall offers prints and downloads. So depending on how quickly I need something, I can either order flyers (even double-sided ones, yes!) or digital files. And I can upload the digital copy to websites and Facebook, Instagram, Pinterest and Twitter!!! (If you want to know what else PosterMyWall offers, check out this page). http://www.postermywall.com/index.php/p/fundraising-posters
Tammie~