I received the below mentioned complimentary product for the purpose of this review. All thoughts and Opinions are 100% my own. This post may contain affiliate links where I might get a few cents if any purchase is made.
     When I say Kids Space, What do you think of? I think of a space or area that is specifically for Kids. It has it's own furnishings. I has it's own area with just Kid things. It may even have it's own height limit just for Kids. I was thrilled when the opportunity arose to review the Kids Space Bundle. Included in my bundle was a Lillypad Kids size pillow and a Venice lounger from Brentwood Home.
About Brentwood Home~
For over 30 years, we've been making mattresses and home essentials with a team of local artisans and fabricators in Los Angeles. From the beginning, we've obsessed over creating products using healthy and ethically-sourced materials, all inspired by our love for the natural world and our home in California.

"We strongly believe our environment, especially our homes, are at the center of our well-being, allowing us to live comfortable, happy lives."

However, before we started the Brentwood Home brand, most of our products were sold by retailers who added hefty markups, often times more than doubling the cost of our products. In 2012, with much thanks to the digital age, we saw an opportunity to bring that California comfort and craftsmanship directly to you. That's why we started Brentwood Home. No more overwhelming trips to the store or pushy salespeople. No middlemen. No deceptive retailer markups. This, combined with our handcrafting excellence, allows us to provide you with luxurious goods at affordable, honest prices.

We're glad to share a piece of our home with you. Look around, stay awhile, and enjoy a comfortable life with Brentwood Home.
     There are so many pretty and useful items for the whole family that Brentwood Home offers. The Venice Lounger is the best item that I could ask for as it is useful for the kids to:
lean against to read
to sit on to do their homeworkkids
child
to place their game on so it is stable
to take a nap on
there are so many more uses for this…….
Even I can find uses for the Venice Lounger that I find it very useful and helpful.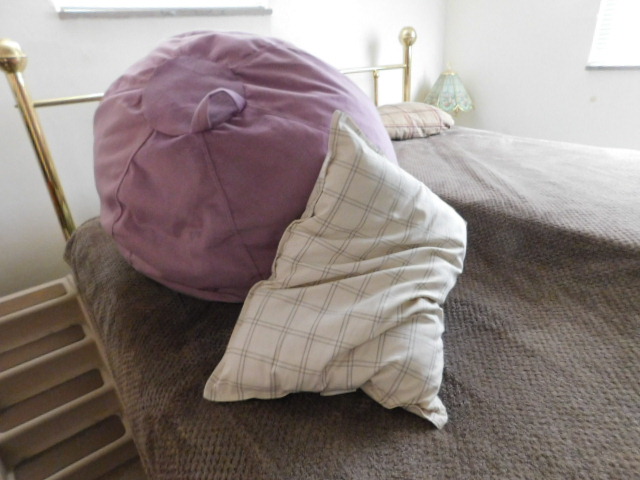 The Lilypad Kids Pillow is the perfect size for any of your kids. Believe it or not but I find that the pillow is the perfect size for me. I love how this pillow was designed with young children in mind. This pillow is all natural and hypoallergenic. The Lilypad Kids Pillow offers medium support that they need. It is filled with a product called kapok which offers the same softness as down without the risk of allergies. It has the fluffiness of cotton.
     Brentwood Home is allowing me to offer a giveaway for the same Kids Space Bundle that I received. Go HERE to enter! Also enter this coupon code OURHOME to save 10% on your Brentwood Home purchase. Who doesn't love a Brentwood Home Coupon?
I give these products my highest recommendation and my thumbs up. You can stay up to date on all the products Brentwood Home offers by following/liking them on their Website/Facebook/Twitter/Pinterest/Instagram
Tammie~