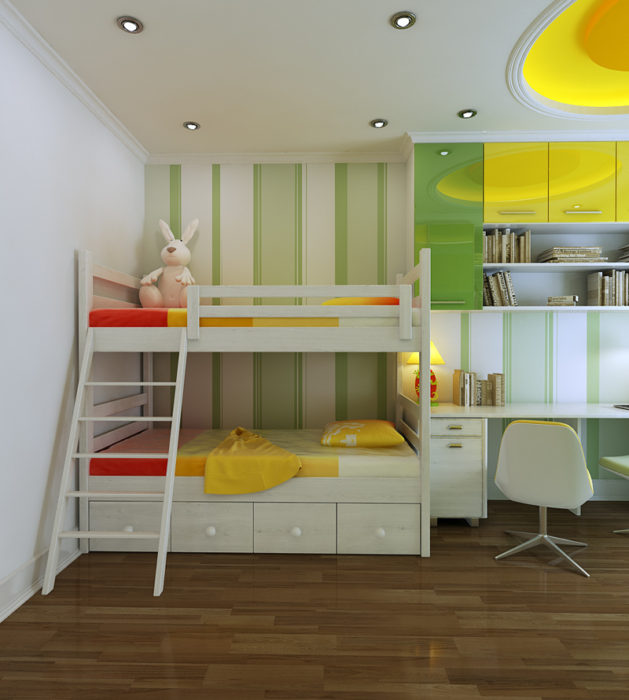 You can have a lot of fun designing and styling your kid's room. Way more fun than you can have messing with your own house haven that's for sure. When you style your room it needs to be contemporary, chic, modern and beautiful. You may also want to look at creating a minimalist design that doesn't feel cluttered or crowded. Now, a child's room can have all these features as well, but it can also be zany, creative and completely unique. It can be filled with imagination and wonder. So, let's look at some of the best features you can add to your kid's room that you probably wouldn't find in your own bedroom.
Elevated Bed
Perhaps the best thing you can add to your kids room that you won't find in the typal adult bedroom is an elevated bed. A high bed is something that is on a lot of kid's wishlist. Assuming they don't have a fear of heights you might find your own child would love one in their room. The beauty of an elevated bed is that it gives you more space in the room. Underneath the bed, there can be a work area or somewhere to sit and relax. This means there's more areas in the rest of the room that you can use for other things. Or, you can keep it clean and clear, completely minimalistic.
There are lots of different styles of elevated beds. If you think that your ceiling is too small, you can get one that isn't as tall as the typical beds. It is possible to get one that is average height but still has the ladder up that kids love.
Guard This Room
After all, what's a child's room without a night guard or a room guard. This is simply a motion activated toy that makes a noise or command when someone enters a room. If you have a young child who is having trouble staying upstairs this can be particularly useful. It can make them feel as though they are not alone and something is protecting them while they sleep. These days, the room guards are quite advanced. They can even respond differently to various movements or gestures. It's definitely worth doing some research and finding out if your child's favorite character is on sale.
Storage Units
Do you constantly find that your kid's room is a mess with toys scattered across the floor and homework everywhere? If that's the case you may want to think about buying some storage units for the room. These are fun and you can get them made of material now so they don't stand out as much in the room. Kids love them too because again, they come in different themes. So, you can get one with their favorite characters and this encourages them to actually use the boxes to store their toys.
Comfy And Cosy
There are lots of ways to make a child's room more comfortable and cosy. Remember, you do need to think about the different seasons of weather. Through the winter, you want make sure that they can stay warm without any trouble at all. You don't want to leave them shivering at night. That's why you need a year around comforter. With this on your kid's bed, you can make sure they stay warm through the winter and don't get too hot when the sun is out. Whatever the weather, they'll be happy wrapped up in bed.
Of course, it's not just about the bed. You also want to make sure kids have a place where they can sit, relax and basically enjoy their bedroom. You can get sofas these days that are specifically designed for kids to have in their room. Or, you can opt for a more retro choice with a blow up chair or a bean bag. Both were popular in the 90's but they seem to have disappeared out of style.
Night Light
Finally, you may want to think about adding a night light to your kid's room. Again, it's useful if you have a child who is struggling to get a good night of sleep. Particularly, if they are jumping in and out of bed every five minutes. This will be as troublesome for you as it is for them. The solution is a little light that stays on but isn't enough to keep them awake. You can even get ones that look like an aqua aquarium filled with fish. This imaginative piece of tech will be loved by your kid.
Have fun using some of these cool accessories to improve your own kid's bedroom!
Tammie~