I received the below mentioned complimentary product for the purpose of this review. All opinions and thoughts are 100% my own.
     Have you made a resolution or choice to lose weight this year? I had the word resolution as they are almost always broken but if you make the choice to lose weight, You will succeed. Another tool you will need to monitor your progress is a scale. I was thrilled when the opportunity came about for me to review the EatSmart Precision Choice Digital Bathroom scale.
About Eat Smart~
100% Satisfaction Guarantee – Our Pledge

We know that maintaining a healthy, happy lifestyle is a constant challenge. At EatSmart we want to give you the tools and confidence to meet the challenge head on. Founded in 2005, EatSmart is devoted to designing, developing and manufacturing innovative health care products to meet the needs of our customers.

Every product that EatSmart manufactures carries our 100% EatSmart Satisfaction Guarantee, which is our pledge to you. This pledge ensures that every item you purchase from EatSmart, regardless of retailer, meets your high standards—or you can return it for a replacement or refund.

And your experience with EatSmart doesn't end after you receive your product. Customer service and support are our highest priority and we pride ourselves on making the buying experience as seamless and easy as possible. Additionally, we listen to your feedback and focus on constantly improving our products and offerings.

Our Guarantee to the Community

EatSmart is not only dedicated to bettering the lives of our customers, we are also committed to making a difference in the world. Every month we make a donation to a different charity from the sales of our products. As we continue to grow, EatSmart will be contributing to local community events which support healthy, active lifestyles. If you have any ideas or want to work with EatSmart, please fill out the form on the Contact Us section and send us an email.
     O.k, So you have your diet chosen and now you need a way to see your progress on how it is going. This means you will need the Eat Smart Precision Choice Digital Bathroom Scale. This is the perfect item for your choice of losing weight this year. Setting this item could not have been any easier. Just insert the batteries and press the power button to turn it. This scale will give you the information that you will need to gage your success. I know that their may be failures too but these failures do not need that you failed, They just mean that maybe another diet may be right for you or that you may need to tweek the one that you have chosen.
     You can see by the above picture that how shiny and prominent the scale is as it is reflecting the ceiling lights in my bathroom. I love everything about this scale.
Some Feature About The Scale:
11.8″ x 11.8″ Black Back Painted Glass Platform Tempered Safety Glass. 2 Year Warranty

4 High Precision Sensors For Accurate Readings Every Time!

Large 3.21″ x 1.56″ LCD Readout with Bright Blue Backlight for Easy Reading at Any Angle or Room Lighting.

High Capacity up to 400 lb. in 0.2lb Increments (lb./kg switchable).

Instant On, Auto Zero, Overload and Low Battery Indicators. 3 x AAA batteries, Included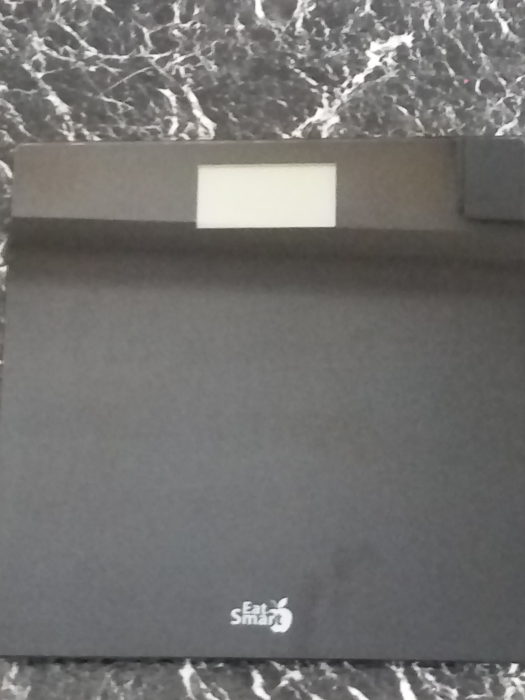 I highly recommend the Eat Smart Precision Choice Digital Bathroom Scale and give it my thumbs up. You will not be sorry when you go HERE to buy one for yourself or as a gift as they are on sale.
Tammie~