I received the below mentioned product at a discounted or complimentary price for the purpose of this review. All opinions and thoughts are 100% my own.
Do you pack your lunch? My husband finds that if he takes a lunch to work that he not only saves time but saves a ton of money. He usually take a small cooler and this is why I was thrilled when the opportunity arose to review the Hango Insulated Lunch Box Cooler Bag (Set of 2 Sizes) in Red.
The Company~
The new Attican's product arrived to make life easier for those who want to keep a practical and healthy lunch.

Thinking about the difficulty to have healthy and fast meals outside, the Attican launched Hango Lunch Bag. Hango is a thermal bag that combines the convenience you need to carry your own food with a modern and elegant design which lets you use your bag anywhere.

Its high performance thermal insulation will keep your meals and snacks at the ideal temperature for a longer time.
About The Product~
ENJOY A FANTASTIC 100% SATISFACTION GUARANTEE – I am so confident you're going to love your Lunch Bag I'm offering it with an excellent guarantee. If you have ANY problems with your Hango™ Lunch Bag THROUGHOUT THE PRODUCT'S LIFETIME simply let me know and I will refund every penny of your purchase. On top of that, doubtlessly, I will send you another brand new lunch bag TOTALLY FREE of charges.

ARE YOU LOOKING FOR QUALITY WITH A PRETTY DESIGN? Unlike many of the lunch bags available for purchase which are made from cheap material, your Hango Lunch Bag is fashioned from high density polyester 300D. In addition to the best quality, we are offering you a very beautiful product. Now you can use your lunch bag everywhere.

WHAT ABOUT HAVING 2 DIFFERENT SIZES FOR DIFFERENT MOMENTS? Your Hango™ Lunch Bag is the only one that offers you a set of two differents sizes, giving you more comfort and practicality. The big one can load, for example, full meals, kits for your picnic or up to 6 cans of soda. You can use the small one, for example, to carry fruits, sandwiches, cookies or some other snack. Enjoy it!

IS THE HANGO; LUNCH BAG FOR YOU OR IS IT A GIFT TO SOMEONE YOU LOVE? The set comes inside of a beautiful gift bag, made of 100% cotton. Everybody loves it!

THE PACKAGE INCLUDES: 1x Red Lunch Bag (Large) 6L x 6H x 10W (inches) and 1x Red Lunch Bag (Small) 5L x 5H x 7.5W (inches)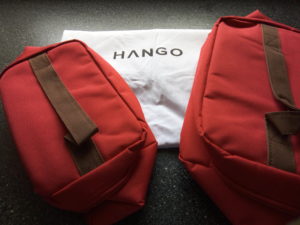 My Review~
The Hango Insulated Lunch Box Cooler Bag in my opinion, Is the perfect lunch bag to accommodate any situation. It comes in 2 sizes and the smaller one is perfect to keep snacks cool or the bigger one is perfect to keep your lunch cool. I also think these would make the perfect gift for someone who is just starting out in the work force and likes to eat healthy. It will also keep drinks, fruit or anything you want to keep cold.
I highly recommend the Hango Insulated Lunch Box Cooler Bagand give it my thumbs up. You know you are getting the lowest price as it is sold on Amazon and you can buy a set for your very own by going HERE.