This is a sponsored post on behalf of Roses Only written by me.
Who do you go to when you want to send flowers? There are so many sites out there but everyone I look at are priced so very expensive. Not only are they way too expensive but when the flowers arrive they look like they may have 1 day of life left to stay nice. To me, Having 1 day left of life in them leaves no time to enjoy the brilliant beauty that only fresh flowers can give. I love receiving fresh flowers because they can say and mean so many things. The perfect gift that all would love to receive. I not only love to receive a fresh flower bouquet but I think giving a fresh flower bouquet is the perfect option.
Giving the gift of flowers is perfect for any reason. You want to say Happy Birthday-Say it with flowers. You want to say I'm Sorry- Say it with flowers. You want to say Congratulations- Say it with flowers. I think you get the idea. Saying anything you want to is perfect with flowers. This is why I want to introduce you to a site/place I found that is both perfect and very reasonably priced. The site is called Roses Only.
About Roses Only~
Not only do they have a ton of different flowers to chose from but they have a ton of arrangements and gift boxes to pick from. Roses Only was established in 1995 by a man who has worked with flowers all of his life buying stock for the family flower business and his name is James Stevens. His concept of the brand led to the creation of Roses Only as they were known as the Tiffany of flowers. Roses Only is a luxury brand. The quest for quality led James to look beyond Australia's seasonal trade – to Ecuador, Colombia and Kenya. There he found the longer stems and larger heads he wanted to bring to our customers as that is what their customers expect.

Their attention to detail is what makes them stand out. Their continuous search for the very finest roses define the brand. They only supply roses with genuine long stems – they measure seventy to eighty centimeters – from the finest producers. Roses Only only looks for the finest blooms, The biggest rose heads and the most vibrant color. Each step they take, from sourcing to delivery, helps them achieve what they are famous for – that unforgettable first impression.
I do not know of  a single person who does not like to receive flowers let alone receive roses. Roses are known to be the universal flower that says "I Love You". Roses can say so very much without saying a word. Roses are a favorite plant that when pruned right can grow hardy in any garden but to have the beautiful color and size that any gardener craves does not always materialize. It takes constant neutering and expertise to achieve this. Only a very few people possess this ability to either grow or know where to find the most beautiful flowers in the world. Rose cultivators are a rare breed. Not only is the size of the head of the rose taken into consideration but the color has to be vibrant. The more vibrant the color the more beautiful the rose.
My Mother has a Rose garden that the Roses keep blooming through Summer and keep coming back year after year. She spends a ton of time in her Rose garden pruning each flower to perfection and nurturing them to grow bigger and better. I do not have the heart to tell her that she does not have the green thumb to grow Roses. I mean she sure does try but if I had to chose from giving someone a bouquet of roses from her garden or buying the rose bouquet from a reputable florist, I would chose the later. I know that may sound mean to say but I WANT that vibrant color. I WANT that big head of the rose. I WANT that perfect flower.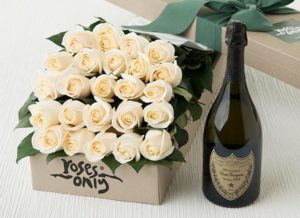 Roses Only offers 7 different varieties of specialty roses and their evergreen roses come in 5 different varieties. Each color is more pristine than the next. These roses are just plain gorgeous. They are so right when they say that "Roses deliver love"with breath-taking roses as gifts for every occasion. Their Foliage is never touched and thorns are not removed, So as to avoid plant trauma and prolong the life of the roses. Each bloom is well cared for in its own water sachet, ensuring the optimal condition within an arrangement. With each gift box, flower food and vase cleaner is received.
I remember reading somewhere that is you do not start out with a clean vase, Your flowers will not thrive(live) to their full potential. Some vases I have still have old gunk left on the sides of the vase as no matter how much I scrub them, It will not come off. I realized that I never knew there was a specific cleaner just for flower vases. Once I bought this, It was removed effortlessly and hence- Clean Vase.
I love a brand/company that not only sells a premium product but educates you as well on taking care of their products. Things we used to know on how to take care of flowers may not be the proper way. I can tell you that I learned a lot of information just by reading everything they offer on the Roses Only website. You will find the perfect bouquet you are looking for in the perfect color that will say it all when you send it to the recipient. You can say it all with flowers. Another thing I love about Roses Only is that you can add a candle, bottle of wine, bottle of champagne or box of chocolates to your flower order and make it that much more perfect and indiviualized for the receiver. Roses Only even offers same day delivery. You can not ask for anything better than Roses Only. Order your gift today.
Tammie~