I received the below mentioned complimentary Gift Set for the purpose of this review. Whether you agree or not, All opinions and thoughts are 100% my own.
Where do you buy your bakery products? Back in the day, There was a bakery on every corner. Well, Not every corner but a lot of them. Now a days most have gone by the way side in response to big corporation making the breads and treats we have learned to love. I used to think that they were all created equal but it was not until the opportunity came about to review Bakerly products. About Bakerly~
where are bakerly products made?
for the moment, and it is temporary, all our products are carried with a lot of love from the North West of France, from the region of Brittany. With over 30 years of experience in Europe, we currently operate 21 state-of-the-art production facilities and proudly employ over 3,700 people. We are really proud of our honest origins! And we're proud to announce that we'll soon become totally American! The happy bakerly US factory is under construction in Pennsylvania and we expect to unveil it next year.

do real artisan-bakers really make the delicious crepes, brioches and the other products?
behind all of our products stands the bakerly all-star team of true certified "artisan bakers". Their passion and savoir-faire is what makes our products soooo good!

is bakerly suitable for all ages?
bakerly is a joyful and tasty brand for both kids and adults! As long as you have a healthy diet, feel free to indulge in a sweet treat whenever the mood strikes you. Why should kids have all the fun!?
About Bakerly Products~
can I buy bakerly products online or by email?
for the moment, our products are not available online. We will keep you posted when this becomes available!
Chocolate Filled Crepes- authentic french recipe, no preservatives and no artificial coloring. NON-GMO. With a crunch that almost tastes like a cocoa puff.
Strawberry Filled Crepes- authentic french recipe, no preservatives, no artificial coloring, no artificial flavoring and NON-GMO.
Brioche Rolls- authentic french recipe, no preservatives, no artificial coloring, no artificial flavoring, no high fructose corn syrup and NON-GMO.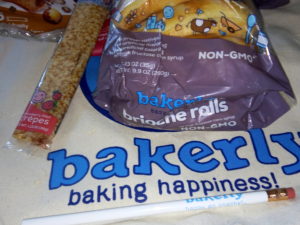 My Review/Thoughts~
I received a 2 bags of  Crepes- 1 in crunchy chocolate filled and 1 strawberry filled. I also received 1 bag of Brioche Rolls, A tote bag, An apron and a pen. I tasted everything to write this review and I must say how tasty and flavorful everything was. What sold me was when my husband went into the kitchen to make himself a late night sandwich and low and behold- He used a Bakerly Brioche Roll. I had just went shopping and I had on hand hamburger rolls, sliced regular bread as well as sliced French and Italian bread. Oh no, Non of those were what he wanted. He wanted Bakerly. He told me that non of what I bought compared to the taste and texture of what Bakerly offered. I could of fell over when he said that. Now, I love the taste of everything I tried from Bakerly but when a man opts for something from them-You just know how awesome Bakerly truly is.
I give this company and their products my thumbs up and I highly recommend them for families everywhere. This would make the perfect holiday gift for anyone on your list!
You can find a Bakerly near you by looking HERE.
Tammie~