I received the below mentioned complimentary product either for free or a discounted price for the purpose of the review. Whether or not you agree, All opinions and thoughts are 100% my own.
What is your New Year's Resolution? Some want to quit smoking. Some want to eat healthier. Most want to lose weight. That is the category that I fit in. I recently started Atkin's and you have to measure some of your vegetables and your protein. I was thrilled when the review opportunity came about to review the EatSmart Precision Digital Kitchen Scale. If not for yourself, This would make the perfect gift for anyone on your list.

About EatSmart Products~
EatSmart Products is a leading designer and manufacturer of high quality, user friendly digital scales. Our product line includes some of the most accurate and reliable bathroom, kitchen and luggage scales available on the market today. We pride ourselves in providing the highest levels of product quality and customer service continues to be our highest priority. We believe that living smart and eating smart can be easy, and we're here to help.
About EatSmart Precision Digital Kitchen Scale~
The EatSmart Precision Digital Kitchen Scale is a versatile multi-function home appliance. Designed to be highly accurate and aesthetically pleasing, the Precision Digital is manufactured to the highest quality specifications. Weigh items up to 11 lbs quickly and accurately, with results displayed in four different measurement modes: grams / ounces / pounds / kilograms. The recessed platform allows you to effortlessly weigh items on the scale itself and the plastic design is easy to clean. The scale has a small footprint, measuring 9.1″x 6.4″ and it weighs in at only 11.2 ounces.
Features:
Recessed platform to contain foods when weighing

Subtract weight of the container with the Tare feature

Maximum Weight: 11 lbs.

Measurement Units: oz / g / kg / lbs.

Graduation: 1 gram / 0.1 ounces

Automatic shut off feature conserves battery life

Slim design measuring approximately 9" x 6 3/8" x 5/8"

Includes 1 CR2032 Lithium Battery with your purchase

100% satisfaction guarantee and two-year warranty

MODEL #: ESKS-12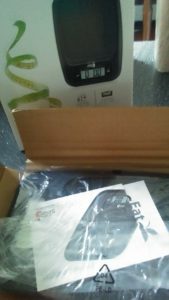 My Review/Thoughts~
I had always thought about buying a kitchen scale but with so many on the market-Which one would be the best. After using this product, I can now tell you that the EatSmart Precision Digital Kitchen Scale is top notch. The slim design makes it perfect for any kitchen. The sleek design of it makes it user friendly. I have a vision problem and the LCD display is just perfect for me. I know have full control over every aspect of my new found diet. No more is the guessing of what something weighs. What I thought was a close guess was not at all even close to what the actual weight was. If it were only for the peace of mind that this offers, That would be one thing but the EatSmart Precision Digital Kitchen Scale is so much more. I love the low price that has it listed for also. I have a new found inner strength that I KNOW I can do this. I know you can too.
I give the EatSmart Precision Digital Kitchen Scale my highest recommendation and my thumbs up. You do need to order one for yourself or that special person on your Holiday gift list. You can order on by going HERE.
Show our sponsor some love and keep up to date on their products by following/liking them on Facebook, Twitter, Pinterest and Instagram.
Tammie~