I received the below mentioned complimentary product either for free or a discounted price. All opinions and thoughts are 100% my own.
Do you suffer from knee issues? You are not alone. More and more people are suffering from knee issues than ever before. I also suffer from either knee pain or my knee gives out on my from lack of support, This is why I was thrilled for the opportunity to review the UProtective Knee Brace with Compression Support.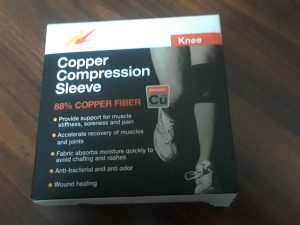 About The UProtective Knee Brace~
Speed Up Knee Recovery: The Copper nylon in our Knee Brace Support accelerate recovery Aid in sport recovery, runners & jumpers knee, arthritis, football, basketball, and so on.

High Quality Material: 88% Copper infused nylon our Copper Compression knee sleeves are the highest concentration of copper infused fiber available.

Smart Design: With double silicone gel strips offer more stable compression,no matter what you do,stable compression all the time,no slipping,no rolling off,no sliding down.

The Best Quality: Copper Compression knee brace are extremely comfortable and can be worn everyday to help you recover faster, reduce pain, and get the support you need!

Warranty: 100% money back guarantee ,your satisfaction is our priority,if our product doesn't meet all your needs,we'll refund you the full price.

My Review/Thoughts~
Most everyone knows my history of being an orthopedic nurse and that being said- I know which orthopedic surgeries to have now and which ones can wait. I have a torn meniscus in both of my knees but my left knee is the worse and sometimes it gives out on me. I did put the compression sleeve on when I was having a bad knee day(as I call them). I found the UProtective Knee Brace was a huge help to me that I started to wear it all the time. I love how many sizes it came in. I love how easy it was to put on and I love the high quality it is made of. This is the perfect knee brace.
I give the UProtective Knee Brace my highest recommendation and my thumbs up. You can order on for your very own by going HERE.