I received the below mentioned complimentary product either for free a discounted price for the purpose of this post. All opinions and thoughts are 100% my own.
About The Product/Company~
It may surprise you to learn that the Crock-Pot® slow cooker, used in so many kitchens around the world, debuted over four decades ago as a simple bean cooker. At this time, the Crock-Pot® brand defined a new way for homemakers to serve an affordable, tender, delicious meal to their families using inexpensive cuts of meat and offered assistance to busy moms caring for their family with a convenient cooking method that helped minimize time in the kitchen. Crock-Pot® slow cookers are a part of many fond family memories as a recollection of favorite dishes and cooking aromas from generations past.

Nothing brings good times and good friends together like delicious food. Crock-Pot® slow cookers have been the center of countless gatherings, get-togethers, cookouts, and, thanks to our line of ultra-portable Crock-Pot® Cook & Carry™ slow cookers, tailgating parties. In recent years, we have designed specialty products to make entertaining easier and more convenient, including the Crock-Pot® Hook-Up™ Connectable Entertaining System. Whether cooking for two or entertaining a crowd, the convenience and ease of Crock-Pot® slow cookers make dishing up home-cooked meals, and memories, simple, smart and fun!

The Crock-Pot® Programmable Casserole Crock Slow Cooker makes family dinners, potlucks and parties easier than ever! Its rectangular design is the perfect size and shape to prepare everyone's favorite casseroles, lasagna, desserts, and more. It's ideal for make-ahead meals that you and your family can come home to, simplifying mealtime.

The fully programmable control panel sets cook time on low or high temperature, anywhere from 30 minutes up to 20 hours, providing convenience for various recipe cook times.  You will know the exact time that your food will be ready as the digital timer counts down the remaining cook time. The unique stoneware is oven-safe for use in both the slow cooker base or in a conventional oven. This makes it easy to cook, warm and serve with the flexibility to slow cook and then brown or melt toppings in the oven, or bake first and keep warm in the Casserole Crock. During the holidays when you're juggling multiple dishes, the Crock-Pot® Programmable Casserole Crock is a lifesaver, freeing up space in your oven. With portability in mind, the Casserole Crock uses our Cook & Carry locking lid system for easy transport without spills.

Slow cook delicious casseroles, lasagna, dessert and more
Programmable controls with cook time ranging from 30 minutes to 20 hours
Digital timer counts down cooking time
Automatically shifts to warm setting when cook time is complete
Oven-safe, 9″ x 13″ stoneware with 3.5 quart capacity
Secure-fit locking lid featuring Cook & Carry system for mess-free portability
Cord wrap for neat and easy transport
Dishwasher-safe stoneware and lid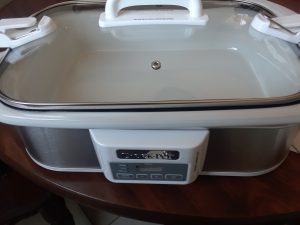 My Review/Thoughts~
We love anything and everything from Crock-pot. Even tho I am disabled and do not work, Eric does and the thing is that you never know what time he will be getting home. This is why I mostly cook with crock-pots or slow cookers as I can place the items in it and cook away. When it is done, I can then keep the food heated until Eric gets home. The best thing is that the food stays nice and moist. I cannot wait for the Holidays to get here because I plan on buying a few and using them throughout the season. The oval and round ones are wonderful but having one where you can use a rectangle dish is in my opinion….genius! You really need one for your very own.
I give the Crock-Pot® Programmable 3.5-Quart Casserole Slow Cooker my highest recommendation and my thumbs up. You can go HERE to buy one for yourself or that FOODIE on your gift list.
Tammie~