I received the below mentioned complimentary product either for free or a discounted price for the purpose of this post. All opinions and thoughts are 100% my own.
Let's talk fishing. My husband, Eric, goes fishing everyday he is off and every month of the year except where the lake, pond, creek or rivers are not frozen over. Do you know anyone like this. I have learned not to care about this. This is his only hobby, So how can I be? For his sake, I was thrilled when I was recently approached to review the Mystery Tackle Box for my Holiday Gift Guide 2019. I quickly jumped at the chance.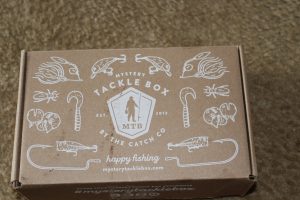 About Mystery Tackle Box~
Mystery Tackle Box is the original monthly lure subscription service. We have featured over a hundred different brands in our boxes and have introduced tens of thousands of anglers to new products they have come to love. We ship out over 2 million baits a year and we continue to grow as our customers love getting their boxes every month. In fact, we're often told that it feels like Christmas once a month!

So start changing the way you discover new lures and learn new fishing techniques and subscribe to Mystery Tackle Box today!

YOU'LL LOVE HOW EASY THIS IS

PSST, It's no-risk and you can cancel any time

PICK A PLAN 

Choose between a standard or pro version of bass, trout, catfish (catfish excluded from PRO), panfish, or inshore saltwater boxes. We also feature an ELITE box for hardcore bass or multi-species anglers.

FREE SHIPPING!

We'll ship your box of baits from our warehouse to your front door, free of charge!

Explore your box! Our team of experienced anglers picked a whole month's worth of fish-candy for you. We'll include baits from industry leading brands and cutting edge innovators known to catch you more fish.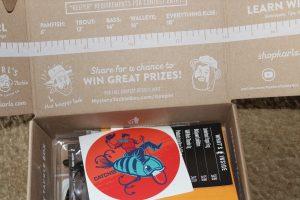 My Review/Thoughts~
I am a very skeptical person. I do need to see something to beleive it. I love the idea of receiving a box in the mail and being surprised at what wonderful items are in it. Of course all having to do with fishing. 3 different boxes to chose from- regular, pro  and elite. After reviewing this subscription box, I will definitely be getting  a Mystery Tackle Subscription Box for Eric for Christmas. The only choice I have to make is what plan to get him. They all are very affordable for what you get. If you have that great fisherman on your holiday gift list-I highly recommend that you order a box or 2 or 3 for them. Go HERE to place your order. They will be in aww over it.
Tammie~