I received the below mentioned complimentary product either for free or a discounted price for the purpose of this post. All opinions and thoughts are 100% my own.
What is your favorite childhood pastime that you remember the most. Well, Mine was dunking cookies in milk which carried over to my adulthood. Yes, I still do it even today. There is something comforting about the idea of milk and cookies. Even better is cookies dunked in milk. I beleive this is one of the first things I taught my kids. I wish Dunky Cups had been around when I was teaching my kids about this. It would of been much less messy.

About Dunky Cups~
Has 3 holders (pockets) for sandwich-sized cookies and one for 8 fl. ounces of milk or tea

4 Oreo cookies included. Makes a great gift for the dunker or dipper in your family.

Also works for dippable snacks such as pretzels and carrot sticks. Compatible with The Dipr spoon and Oreo Double Stuf cookies

Made from FDA approved, BPA-free plastic, the cup is food, microwave, and dishwasher safe (top rack).

Super heavy-duty with the feel of a high-quality mug. Designed in the USA for a lifetime of dunking.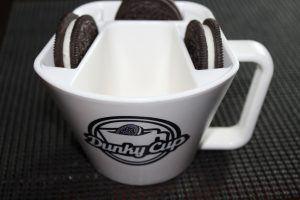 My Review/Thoughts~
I do not think there is any greater satisfaction than spending time with your kids and teaching them a pastime you loved as a child. Like I said earlier, I still dunk my cookies in milk. The first time I showed them how, The littler kids had the milk everywhere as I did not have the right glass. If only I had a dunky cup. This would solve all my problems. This would make the perfect holiday gift for any child on your gift list and you know it is super affordable because it is for sell on amazon.
I give the Dunky Cup my thumbs up and my sell of approval as well as my kids approval.
Tammie~