I received the below mentioned complimentary product either for free or a discounted price for the purpose of this post. All opinions and thoughts are 100% my own.
About The Product/Company~
IG Charcoal BBQ is a state of the art stainless steel, charcoal barbecue. Sitting on 4 four inch casters, you can roll the barbecue to any event. The modern IG Charcoal BBQ is a state of the art stainless steel, charcoal barbecue.

This is indeed a special barbecue with multiple unique qualities and features. Resting on 4 four inch casters, two of which have stops, you can roll the barbecue anywhere in you outdoor space, yard or even to a picnic or special event. The legs go inside the body chamber with ease and without the need of any tools.

They come out of the body with the same ease. This feature makes the barbecue very compact in size and transportable in your car or for storage with minimum space.

The other features include a grill top for cooking that can also be removed to accommodate skewers for Kabobs and skewer type barbecues.The barbecue has a movable charcoal holder, unique in design, for raising or lowering the charcoal for faster or slower cooking depending on your needs and the quantity of food being barbecued at one time.

To make it all further unique and easy to use, you do not have to scoop or vacuum the ashes from the burnt charcoal like barbecues of the past. The ash collector tray collects the spent ashes and can slide in or out and the ashes dumped! Once the ashes are thrown away you slide the ash collector back in.

Finally, the modern IG BBQ has side trays on both sides that can be raised for placing the food: cooked or uncooked without needing other tables or furniture around. These side trays can fold down after use to occupy less space if needed.

In addition to the two side trays there is a full-length bottom tray for placing utensils and food. This bottom tray is also removable.

All in all this is the best barbecue in the market at an incredibly affordable price and design and features in stainless steel.

Folding Side Trays

Rotating Charcoal Handle

Ash Collector Tray

Stainless Steel

18″ W x 61.5″ L x 36″ H. Weight: 71lb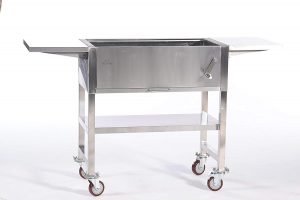 My Review/Thoughts~
My Eric loves to BBQ and we have a gas grill that we love but that was until we received the IG Charcoal BBQ Grille. Eric now calls it the Cadillac of charcoal grills. When the box came, I was shocked at how excited he was to put it together. All he could talk about was how we needed to go out and buy charcoal. Eric then told me that he missed the taste of food grilled on a charcoal BBQ grill something I never knew. The IG Charcoal BBQ Grille is the perfect holiday gift for any foodie on your gift list and if you do not have one then you need to buy one for yourself by going HERE. It is sold on Amazon as well as other fine retailers so you know you are getting the best price.
Tammie~