I received the below mentioned complimentary product either for free or a discounted price for the purpose of this post. All opinions and thoughts are 100% my own.
 About The Product/Company~
JORD is run by artists, designers, marketers, and minders. We spend our days creating, considering, arguing, and hopefully agreeing. Then we'll scrap it all for the joy of starting new. We have fun. This is our journey.

We are focused on creating timepieces that are modeled after a modern lifestyle. We value sustainability, efficiency, and experiential living. We make our watches for people who don't just have somewhere to be, they have somewhere to go.

The value of a watch is not in being able to tell how much time has passed, but in being aware of the need to make that time count. Moments are bigger than minutes and your watch should tell more than time.

SIER Arcadia~

Classic minimalism designed for versatility The All new Sier Arcadia is an evolution in natural timepiece construction. Clean lines and simple styling with a complex story. Each one of a kind watch dial is rough cut from white marble and hand polished to a beautiful luster. Complimented by interchangeable leather and metal mesh band, Arcadia was made to be worn at any occasion.

Your purchase of a SIER Arcadia timepiece includes a $60 replacement metal mesh band in Rose gold. Bands can easily be swapped between leather and metal using our quick-release pin system (no tools required). An elegant presentation coupled with an alternative metal band to your timepiece versatile for any outfit or occasion.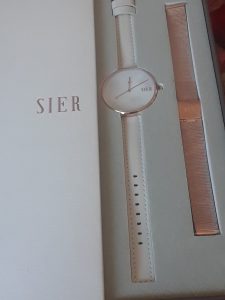 My Review/Thoughts~
I have been in love with JORD wooden watches ever since I found the site. That had to be several years ago. I was thrilled when the offer to review the SIER Arcadia watch for inclusion in my 2018 holiday gift guide. When I took the watch out of the box, I was immediately impressed with just how classy and sophisticated it looked. I am in love with the classy minimalist design it has. The combination of the rose gold and the while marble was enough to convince me that this will be my go to watch. Not only will I wear this watch for special occasions and a night on the town but It would be perfect for everyday. Not only does JORD have watches for women but they have watches for men also. Another thing I love is that they do watch engraving. I think that is going above and beyond as I would love to put a personal text on the back of the watch. If you have that hard to buy for person, techy or fashion conscious person on your gift list then I highly suggest this watch as you most certainly will wow them. You really need to even buy one for yourself by going HERE.