I received the below mentioned complimentary product either for free or a discounted price. All opinions are 100% my own.
Are you a gardener or a person that likes organization? I will be the first to admit that I like organization and gardening but I seem to get overwhelmed but that was until I received the awesome opportunity to review the 
Farmhouse Flower Pot and Tray Set By Walford Home.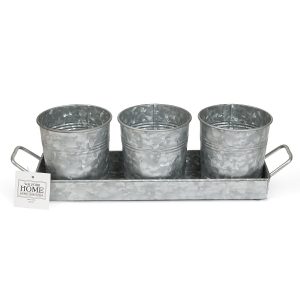 About The Farmhouse Flower Pot and Tray Set~
FARMHOUSE DECOR. Elegant pot and tray will make your home or garden look straight from a home décor magazine! Perfect as a picnic, craft or silverware kitchen caddy.

ONE PRODUCT, UNLIMITED USES! Perfect windowsill planter. Ideal for herbs, succulents, or flowers. Beautiful as a wedding decoration or centerpiece. Great for organization and storage.

SUPERIOR QUALITY WITH ATTENTION TO DETAIL. The durable, heavy-duty galvanized steel is sturdy and weather resistant. Quality 4-point connected handles. Premium protective pads on tray underside.

YOUR SATISFACTION IS OUR #1 PRIORITY, If after 30 days if you're not 100% thrilled with their beautiful design and unparalleled versatility, we promise to offer you a prompt and full refund.

Dimensions(in): Tray and handle: 15.6in wide x 2in high x 3.9in deep. (Tray base: 12.9in wide x 1.4in high x 3.9in deep) Pots: 4.1in high, 4.1in wide top, 3.4in wide bottom. Set weight 1.05lb.

My Thoughts/Review~
I love products like the 
Farmhouse Flower Pot and Tray Set  as this product will help you not only you with you gardening but could also help with your organization such as a condiment station, cutlery holder or even a crafting pod to hold your small attachments. It has a sleek look. This product is sold on amazon so you know you are getting the best price. 
Check out this awesome promotion- Use this special discount code WHSPRING30 where you will get 30% off the normal $24.97 price as well as the final price of $17.48.
Tammie~