I received the below mentioned complimentary product either for free or a discounted price for the purpose of this post. All opinions and thoughts are 100% my own.
My Doctors told me not to lay on my back or stomach when I sleep but that is exactly what I am used to. They suggested I get a body pillow to fix this. This is why I was thrilled when the opportunity came about to review the Full Body Bed Pillow by Insen.
About The Product~
SUPER SOFT JERSEY COVER. Premium pillow cover in navy blue makes you feel amazing and very comfortable. You will be impressed by its soft, silky, and skin-friendly. This luxurious full body pillow serves both texture and beauty.

OVERSIZED FOR TOTAL BODY SUPPORT. Measures 54''x20'', oversized for perfect fit. Our full-sized bed pillow takes place the multi small pillows in bed. This comfortable body pillow is long enough and making it a best assistant for expectant mother, back/side sleepers.

WELL MADE AND MULTI-USE. You need support in daily sleep, sit, and lie down. This full body support pillow fit the natural contours of the body. Please fully relax yourself when you are reading, watching TV/movie, working and playing games while sleeping with it. Besides, take this navy-blue color pillow in bed is so beautiful and show your room energetic.RELIEVE PREGNANCY BODY PAIN. Our full body pregnancy pillow can help you into a quality sleep, reducing interruptions all night.

EASY CARE WITH ZIPPER COVER. Machine wash and tumble dry the body pillow for easy care. More durable and maintain original shaped. High density soft cotton adapts to your belly and back when you want to sleep, read, nurse, or watch TV. We use long silk cotton that it will stay smooth and fluffy inside the pillow provides comfort for side support.

100% REFUND GUARANTEE. 100% REFUND GUARANTEE. INSEN provides 90-day REFUND or exchange GUARANTEE. Your satisfaction is our top priority. Please feel free to contact us if you are not satisfied with the pregnancy pillow. Warmly Tips: Both outer and lining case have independent zipper for you conveniently to unpick and wash or stuff regulation.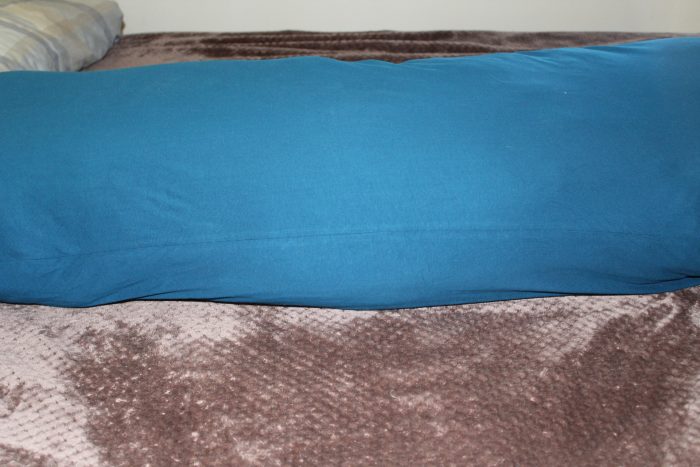 My Review/Thoughts~
When the pillow arrived, I could not fathom how the Body Pillow could make a difference but I was willing to give it a try. I was so very scared not to be able to sleep on my belly but I used the Body Pillow. The first night was an adjustment night- Getting used to the pillow, etc. The second night went much better but not perfect as I kept waking up. The 3rd night was the night. The Body Pillow was the trick to keeping off of my belly. It is really very comfortable and I can't imagine sleeping without it. This Body Pillow was the answer to my prayers. I highly suggest the Body Pillow for anyone needing to get a great nights sleep.
I highly suggest the Body Pillow and give it my seal of approval. You can go HERE to buy one for your very own.
Tammie~