I received the below mentioned complimentary product either for free or a discounted price for the purpose of this blog post. All opinions and thoughts are 100% my own.
Security is everything to me. Making sure that my family is safe is the biggest concern for me. Another thing that I need to be is safe, locked and secure is my home. Granted they may only be things but some of those are priceless. There has been way too many break ins in my area for me to feel safe. I live in a elderly community. The thought of changing my lock many times to match my feelings of feeling unsafe is just mind blowing. It is not the thought of changing the lock but the thought that I am always misplacing my keys.
I consider myself to be tech savvy. At least I thought I was. In this day of modern technology, Companies are always coming out with the next best thing that you must have. O.k., I have heard of door locks that you can access with your finger print but I have never saw one up close and personally until now. I have recently been offered the chance to review the Lockibly Activa Fingerprint Smart Lock w/ Mechanical Lock.
Lockibly is a leading security company in North America. They create simple affordable smart locks. Lockibly makes the safest most minimalistic smartlocks. Did you ever come home with your arms full of packages only to have to put them down or be a contortionist to get your keys out to open your door? I want to introduce you to a smartlock that uses either your finger print or key to open your door. People may not be ready for just a finger print to open your door so you have the option to use a key. Talk about being safe and secure. You may thing what if I have other family members? Well, Activa Fingerprint Smart Lock w/ Mechanical Locks state-of-the-art capacitive fingerprint sensor allows lightning fast unlocking under 0.5 seconds. Intelligent algorithm means the lock becomes faster and more accurate with each access. Stores up to 100 different fingerprints.
I think the major thing I love, if I had to pick just one, was the quick, easy to install process. All it takes is a screwdriver and a few screw. Installing it is only 5 minutes. Everyone has 5 minutes. No other tools are needed.
Also it only takes 4 AAA batteries which impressed me. Some may thing well what about the freezing temperature? The finger print reader works in temperatures -20 to -60. The LED lights when a finger print is recognized.
Lockibly even has a lock that opens with either your finger print or by bluetooth. Now that is a lock for modern technology.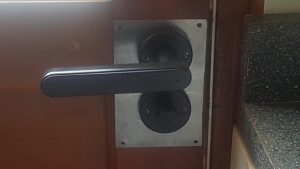 All in all, I give the Lockibly Activa Fingerprint Smart Lock w/ Mechanical Lock my thumbs up. I highly encourage you to check out the Lockibly.com website and find the perfect lock for you at an affordable price.
Tammie~