I received the below mentioned complimentary product for the purpose of this review. All opinions and thoughts are 100% my own.
     What do you use to give your dog a bath? What a big question to ask. I never really thought about the products I bought to use for giving Sam a bath. For those of you who do not know, Sam is a large breed German Shepard who is 14 years old. Yes, Very old for a German Shepard. We give him medications for his joints and I really beleive that this is helping him to stay mobile. I was thrilled when the opportunity came about to review the shampoo and conditioner from John Paul Pet.
About John Paul Pet

~
John Paul DeJoria is a first-generation American turned entrepreneur, philanthropist and pillar of the business community. He has struggled against the odds not only to achieve success, but to share his success with others, always living his motto: "Success unshared is failure."

In 2011, John Paul signed Bill Gates and Warren Buffet's "The Giving Pledge" as a formal promise to continue giving back. The same year, he established JP's Peace, Love & Happiness Foundation as a hub for his charitable investments, which support the core values of his companies: sustainability, social responsibility and animal-friendliness.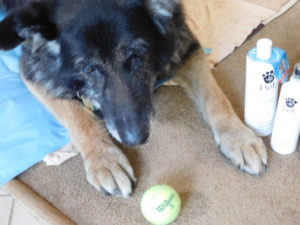 I chose to review the Oatmeal Shampoo and the Oatmeal Conditioning Spray. The Oatmeal System is what I felt would be best for Sam. The Oatmeal Shampoo for sensitive Skin was perfect as Sam does have Sensitive skin.
WHAT IT DOES
Gently cleanses while soothing dry skin and coats.
HOW IT WORKS
With aloe, chamomile, and hydrolyzed oat protein, it cleanses without irritation.
ADDED BONUS
Sweet almond oil conditions while imparting a wonderful almond fragrance.
SIZES (OZ)
16
The Oatmeal Conditioning Spray was suggested to me from my BFF, Justine. It worded wonders on Sam!
WHAT IT DOES
Soothes, conditions, and moisturizes dry coats.
HOW IT WORKS
Thirteen conditioning agents, including aloe, chamomile, and panthenol, smooth and condition the coat
ADDED BONUS
Sweet almond oil conditions while imparting a wonderful almond fragrance.
SIZES (OZ)
8
     I highly recommend these products as I will not use anything else on Sam. His coat is the smoothest it has ever been and full of luster and shine. Let's face it, He is a big dog and using these products on him saves me time and money. I am proud to say that I use John Paul Pet products and I know you will be too. Stay tune for a giveaway coming very soon.
Tammie~