I received the below mentioned complimentary product for the purpose of this review. All opinions and thoughts are 100% my own.
     How do you open your good bottles of wine? I say good bottles as they usually have a cork in them. I am not talking about the ones that have a twist off cap but the ones that have a cork. I used to use one that I got from the dollar store that that one has broke so many times. I was thrilled when the opportunity came about for me to review the Ozeri Regalia Corkscrew Wine Opener.
About the company~
Ozeri is a specialty manufacture of digital lifestyle products for the modern home. Ozeri began as a supplier to the destination club market.  This market spans vacation residences in the destination club industry, fractional residences, timeshares and condo hotel apartments. Ozeri products are found everywhere across the globe.
     Before I received the Ozeri Regalia Corkscrew Wine Opener, I was using one from the dollar store that used to always break on me. I would go back to the dollar store and buy another one. Since receiving the Ozeri 
Regalia Corkscrew Wine Opener, I can now have the confidence and the class that it takes to open a bottle of wine.
About the product~
Designed to offer a lifetime of usage at home and in demanding restaurants, the Ozeri Regalia offers an instant wine opening experience with admirable ease

Utilizes an innovative lever system that translates the smallest effort into a multiplication of force

An undemanding nudge downwards and then upwards on the handle penetrates and removes all cork types

Boasts an ergonomic grip, a maintenance-free design and an elongated handle for easy-operation

Includes an extra corkscrew and a compact foil cutter for a complete wine opening kit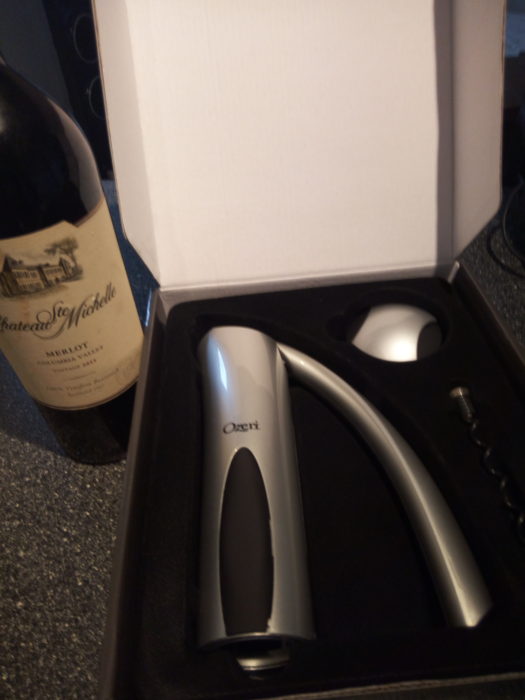 One of my favorite things about the Ozeri 
Regalia Corkscrew Wine Opener is just how easy it is to use. It is virtually effortless. It's sleek design is perfect for any dinner party. It has a modern appeal to it. I always get compliments whenever I bring this to the table to open that perfect bottle of wine. There is nothing to dislike about this wine opener. I absolutely adore everything from how easy it is to use to how awesome it looks.
     I give the Ozeri 
Regalia Corkscrew Wine Opener my highest recommendation. I also give it my thumbs up. This would make the perfect gift for any person on your list. You can buy one by going HERE.
Tammie~