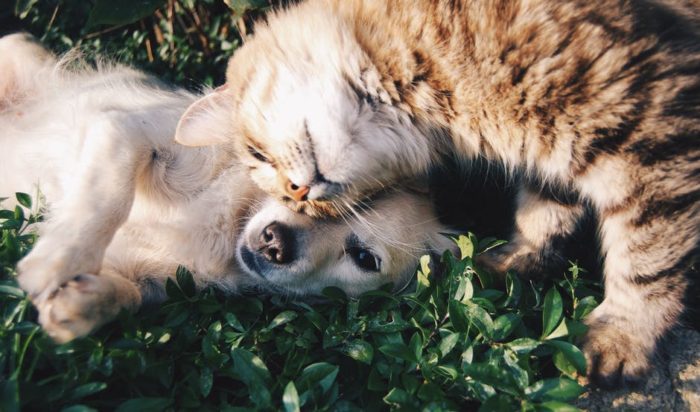 https://www.pexels.com/photo/orange-tabby-cat-beside-fawn-short-coated-puppy-24104/
When you have a pet, your life can often feel complete. Whether you have a family dog or a cat that keeps you company, they can really add a lot of warmth, personality, and vibrancy to your home. But, as well as being a great companion and a part of the family, your pet can also require a lot from you. From feeding and cleaning to playing and petting, our furry little friends do need a lot from us to be happy. Even if you think you're giving your pet everything it needs, these hacks should help you to ensure they're living a healthy life.
Give Them Plenty Of Exercise
First on the agenda, exercise. Making sure that your dog or cat gets enough exercise is crucial to their health and long-term happiness. Even if your dog has a lazy personality, you need to make sure that they're getting the minimum amount of time out walking that their breed requires. It will ensure they stay in shape. Cats are a little trickier, but if your cat is going out and about every day and not getting overweight, you can rest assured that they're getting enough exercise.
Watch Their Diet
To also help their health, you'll want to focus on their diet. If you buy them pet food from the store, do you know what's in it? Do you know what the right portion size for their breed it? It's just as important not to overfeed your pet as it is to make sure that they're not malnourished. To keep the pounds off, make sure you're giving them a healthy balanced diet, which can sometimes be a combination of homemade meals and pet food.
Keep Their Teeth Clean
It's easy to forget about your pet's teeth, but just like humans, they need taking care of too. So, you're going to want to do what you can to keep them as clean and healthy as possible. Some treats can be used to keep plaque at bay, but if you really want to be able to keep them fresh and healthy, head to you vet for tailored advice. You might find that regular teeth cleaning could be all it takes to keep them healthy.
Look After Their Skin
Along with teeth, it's vital that you look after both your dog or cat's skin and their coat. You may wash them regularly and ensure that their coat is groomed, but do you know what to look out for should they get ill? Things like mange in dogs aren't always easy to spot, especially if they don't lose a lot of hair. But, you can treat it at home with the help of natural products like honey or yogurt. The best thing to do is check your pets regularly to ensure their skin and coat stays healthy.
Shower Them With Love
And lastly, we all know how important mental health is to keep us happy. So, you're going to want to make sure you shower your pet with love to ensure that they're feeling both happy and healthy. But, as a firm part of the family and your loyal companion, it's likely that you've already got this hack down.
Tammie~