Everyone loves the idea of being handy at home DIY. If the sink is leaking, they want to be the one that fixes it. When it comes to redecorating the living room, they want it to be their handiwork that turns the room from drab to fab. Alas, there's a reason why there are so many profession handypersons out there: most people are not able to do these tasks! If you're one of these people, then don't worry: just because you can't do these tasks right now, that doesn't mean they'll be beyond your reach forever! Below, we take a look at how you can ease yourself into taking control of your DIY projects and, as a result, your home.
Source: Pexels.com
Shadow Helping Others
Later on down the line, you'll come to understand that there isn't all that much to DIY: anyone can do it! But to begin, you'll have to spend some time in the DIY world, without any pressure on yourself. If you have friends and family who are completing their own projects, ask if you can shadow watch them, and have them talk you through the process of what they're doing and why. There's a wealth of information out there, and much of it lives in the heads of people we already know.
Learning to use the Tools
Of course, you can't be an innocent bystander for your entire life. Eventually, you'll need to get in the trenches and start helping out! If your friend that's working on a project that involves tools, ask if they can show you how they work and when to use them. It can be intimidating to pick up a power tool for the first time, but it'll be more straightforward if you're picking up when you have an experienced handyperson next to you. Once you're used to them, you'll be able to start thinking about the own projects you can start.
Getting the Right Equipment
A worker is only as good as his or her tools, or so they say, and as a result, it's important that you buy the ones that are right for you when you begin building your tool collection. If you don't know where to start, take a look at Tool Nerds. There, you'll find an overview of the tools that you'll need to have, as well as advice on which ones will be the best for you to purchase. It's crucial that you get the specific tool for a job because otherwise, you might find that it's botched – and through no fault of your own.
Picking a Project
Now that you've got a grounding of the essential skills you'll need and a set of tools at your disposal, it's time to start thinking about getting your DIY career truly underway by tackling your first project. What this will be is up to you – and the needs of your house – but there is a word of warning: it's essential that you start small. If you try to take on a project that's too big, you'll only end up in a confusing mess. Indeed, you may put yourself taking on any more projects before you've even completed your first one!
Online Resources and Other Help
Just because it's called 'Do it Yourself,' that doesn't mean you have to think of yourself as the complete handy person. There are many resources out there that can help you every step of the way during your project. Indeed, here's a well-kept secret: a lot of the people who claim to brilliant at DIY projects actually get a lot of help from YouTube channels! This will be especially useful for you, a person in the early stages of DIY, as you'll be able to walk along with someone else and will know pretty quickly if you've made a mistake.
Priority on Safety
You might be excited to get your hands on tools and start work, but remember that DIY projects, no matter how small, have the potential to be dangerous. And of course, this danger is only amplified when there are heights or powerful tools involved. As such, it's important that you're taking all the necessary safety precautions. Before using a tool, read up on the best practices. When you're working in a room, make sure all obstacles and other hazards have been well cleared away. The rest is common sense: always keep an eye on safety!
More Ambitious Projects
It's always important to think clearly about any major changes to your homes. It's even more essential when you're in charge of the task yourself! Some projects will have the potential to add value to your home, but some will actually make it harder to sell in the long run. As such, it's worthwhile to look up the long-term effects of your project before you begin anything too ambitious.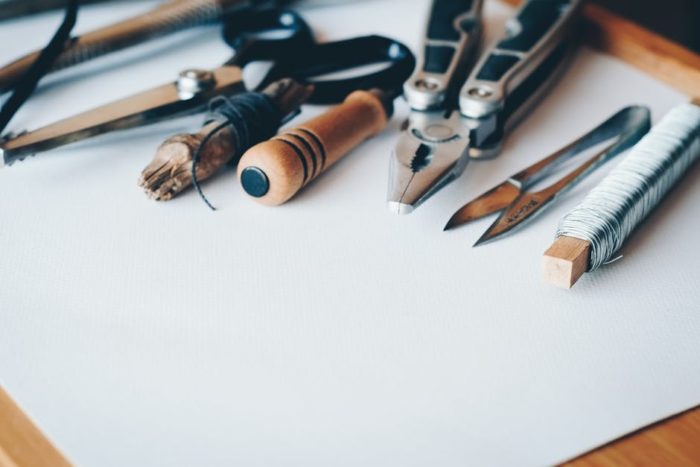 Source: Pexels.com
Meticulous Planning
No matter if it's the most DIY task or a more complicated project, arguably the most important step of the whole process will happen before you've even got to work. Everything is in the planning stages. Simply put, if you walk into a project with just a vague understanding of the result, you won't end up with something you're happy with. Make sure all your measurements are the like are watertight: it'll be difficult to correct when you're too deep!
How to Fix Errors
And talking of making mistakes: you are going to make them. Don't worry, everyone makes mistakes in DIY, especially when they're just starting out. If this happens, take a step back and assess the situation. Is it something that you can fix yourself, or will you need to get the professionals to help?
Smile on the Face
Ultimately, it's important to remember that DIY isn't supposed to be stressful, even though it can often like it. Try to have a relaxed attitude to the whole thing: it's not that serious! Have fun, and you'll be putting yourself under a lot less pressure to get everything right the first time.
Tammie~