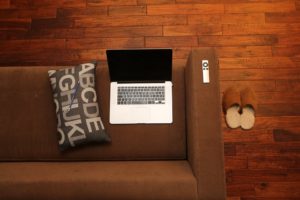 We are all feeling the financial strains these days. All walks of life, from the young to the elderly and everyone in between. As we are all trying to find ways to stay afloat, naturally the temptation to get a loan pops into our minds, and it is definitely a way to get rid of all of your debt. But is it just replacing all your little debts with a much bigger one? As more people are trying to find ways to get out of debt, everyone is turning to the less traditional methods. But in this difficult financial climate, you need to be able to combine money-saving attitudes with an extra income. So how can we do this? The answer is simple, and it's right in front of you, literally!
There are so many options to make money online, that you can try so many different avenues and find the right one for you. For families who are too busy to get a typical 9 to 5 job, there are many ways to make money around your existing commitments, which is something that we are all after when we have kids to look after. For many families, both parents have to take full-time jobs, meaning they don't get to spend much time with their children. For those that are on the lookout for a job that is full-time work but at home, there are lots of options. There are companies like Appen who hire people from all over the world to do the equivalent of basic admin tasks. The contracts are freelance, and they can be on a long-term basis, and for a lot of the tasks there are no set hours so you can do the work around your life commitments. For these types of jobs, a professional background is usually required, but there are social media oriented roles that are a great entryway into this type of work, and they normally ask that you have some basic experience in social media sites like Instagram. Another route to making money online includes transcription. So many marketing companies, legal services, and research businesses look for people to transcribe recorded interviews, hearings, and legal proceedings. It is a great way to work from home, but you do need to have some quiet to be able to transcribe the audio, and it helps if you have lightning fingers as the pay is usually done per audio minute.
Other options for earning money from home includes doing surveys (they pay per survey completed), being an online moderator for games (like black jack), or even just being a freelancer. The perk of freelancing at home is a far more enticing option for many over the dreaded commute to work. And so many of us are in agreement, the freelance industry is booming at the moment, with so many sites like Freelancer signing up newer members on a daily basis. It does mean that there is more competition, but if you have a skill to sell that is far from the norm, it does make you a lot more likely to pick up work. Making money can have its difficulties online, which is why lots of people opt for selling their stuff on items like eBay, but there are some other sites that reduce the lengthy process of auction sites. Decluttr is simple in the fact that you can check whether the site will buy your item by scanning the barcode into its "valuation engine" and you can choose to accept the cost they offer, send the item off to them, and receive payment the day after the item arrives their end.
While selling your items online can help to cover yourself financially for a short period of time, you need to get into the habit of saving money. This means getting into the right mindset of being a bargain hunter. Some of us have the time to go to stores and hunt out the bargains, while most of us, who are so busy with two jobs or many children, need to find our bargains at home. To make the most of saving money online, there is a little knack for finding the best deals, and it's in how you search. Searching online for the best deals can be very confusing, or you can end up being more out of pocket than if you just went to the store. The simplest approach is to just do the following…
In our quest to save money we sometimes go for the most expensive product with all the bells and whistles when, in fact, is it essential to have all those features when a cheaper option will do? Price comparison sites are one great way to find bargains, but you need to search through all the available ones. Don't forget, price comparison sites only show the products from retailers who pay them. Another method is to shop around the offers that are ongoing. Going onto a site like www.CouponSherpa.com, you will see all the offers you can get right now. So by just going for the discounted items instead of the items you usually buy, you can easily save a 1/3 off your shopping bill. There are many coupon websites, and you just have to search for them. The important thing when it comes to shopping online is to make sure that the sites are reputable. While cheap items are great, if they aren't branded or come from a questionable source, you need to find out if they are not just out to grab money. Before purchasing an item, check to see if they have a dedicated office, a server that is secure, and a phone number and address.
Making the most of being online means that we don't really need to leave our home anymore, and as we are all so busy nowadays with our families, we need to find the quickest and easiest way to earn money and to spot a bargain. With these two methods, you can just sit down at your computer and get typing!
Tammie~