I received the below mentioned complimentary product for the purpose of this review. All opinions and thoughts are 100% my own.
     Do you have a go to beverage glass? Being new home owners, I wanted everything brand new. That goes for my glasses as well. It was not until I bought my mobile home that I received a set of matching glasses in all sizes. That was 30 years ago which means that they have either broken or got lost as I only have 2 left. This is why I was thrilled to be offered the opportunity to review the 16 ounce Serafino Double Wall Glasses from Ozeri.
About The Company~
Ozeri is a specialty manufacture of digital lifestyle products for the modern home. Ozeri began as a supplier to the destination club market.  This market spans vacation residences in the destination club industry, fractional residences, timeshares and condo hotel apartments. Ozeri products are found everywhere across the globe.
About The Ozeri Serafino Double Wall Insulated Glass~
Set of 2 heat and condensation-resistant borosilicate glasses that each hold 12 oz

Stronger and more durable than common glass, each glass features a wraparound contour that provides a natural aesthetic grip

Patented double wall design that suspends drinks within an inner wall, creating an engaging optical effect

Designed to keep your hands cool with hot drinks, and free of condensation with chilled beverages

Completely microwave and freezer safe. Ships in an elegant 4 color printed box with a No-Hassle Warranty. Satisfaction Guaranteed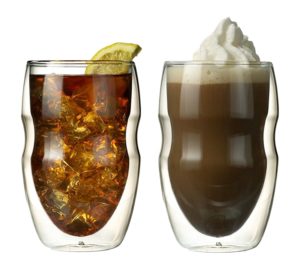 My Thoughts~
I am in love with the Ozeri Serafino Double Wall Insulated 12 Ounce Glass as there is no more condensation to worry about. No more hot drinks cooling off and no more needing a pot holder to hold the hot drink. These glasses are in no other word than amazing. No need for a wrap on the glass to gather the condensation from cold drinks. These are very stylish as they go with all my dishes and glasses. I give the Ozeri Serafino Double Wall Insulated Glass my thumbs up and my highest recommendation. You owe it to yourself to buy a set for your very own by going HERE.
Tammie~