This post is sponsored by The National Frozen & Refrigerated Foods Association (NFRA). All opinions are my own. For more inspiration during #FrozenFoodMonth, be sure to check out delicious ideas from NFRA at EasyHomeMeals.com #MFFM2019
When I started out 2019, I made a promise to my family that being healthy will be at the forefront of our minds. To me, that means creating healthy habits that are easy to stick to. I plan to:
• Take the stairs instead of the elevator
• Walk instead of taking the car, I mean town IS only a couple of blocks away
• Eat healthier meals
While these seem like small changes to make, as a busy Mom I wonder, how do I insert healthy meals into my hectic day? Or get my kids to agree on anything they want to eat? And, how can you eat healthy when it can be so expensive?
I've figured some of it out, and I'll tell you how! Start shopping the frozen aisle at your local Giant Eagle.
Why?
This month Giant Eagle is celebrating March Frozen Food Month! I was able to save BIG and stock my freezer with Healthy Choice single serve bowls in a variety of different flavors and an assortment of Giant Eagle frozen fruits/veggies.
The Healthy Choice Power Bowls are great when one of us is on the run and needs something quick, but also healthy to eat. They're single serve & complete meals that are great for breakfast, lunch or dinner! It does not get any easier — I just pop it into the microwave and before you know it, I have a hot meal that was quick and oh so easy to prepare and eat.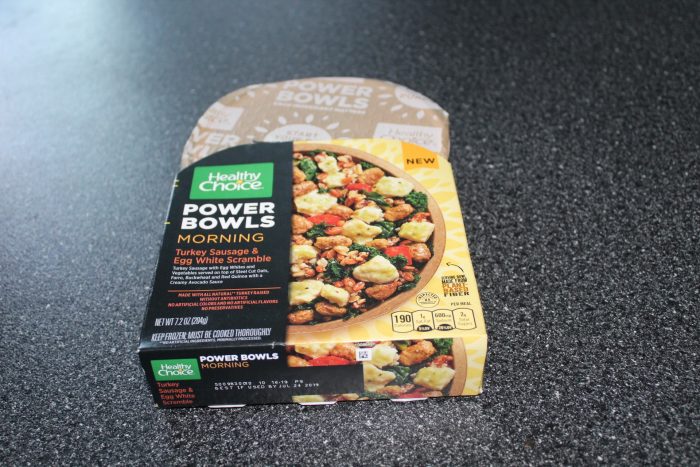 There are so many different choices when it comes to the Healthy Choice Power bowls and the benefits are endless! With so many different varieties, Healthy Choice provides options that satisfy my whole family. And- they're convenient, taste great, and help us stick to our 2019 goal of being healthy!
Part of my healthy habit promise is to also eat more vegetables. I was very impressed by the selection and amount of variety that Giant Eagle had to choose from. With such great savings this month, I was able to stock my freezer with an assortment of vegetables to prepare as a healthy side or snack anytime I wanted.
Another healthy habit we can all agree on in my family? Smoothies! We love making smoothies and with Giant Eagle frozen fruit, picked and preserved at the peak of freshness. Making smoothies with Giant Eagle frozen fruit is super easy and you never have to worry about your fruit going bad.
Eating healthy does not have to cost an arm and a leg, especially during frozen food month at Giant Eagle when the savings are terrific.
Click here to find out great frozen food coupons and deals at Giant Eagle.
NOW FOR AN EXCITING GIVEAWAY WHERE I AM GIVING AWAY A $50 GIANT EAGLE GC To 3 winners. 
o    This Giveaway Just Went Live And Will End On 4/9 At 11:59 p.m.
o     Open To The US Only
o     Void Where Prohibited By Law
o    Winner Will Be Emailed And Have 48 Hours To Respond Or Another Winner Will Be Chosen.
PLEASE ENTER ON THE WIDGET BELOW AND GOOD LUCK TO YOU!
Visit Easy Home Meals for great recipe and meal solutions and to enter the March Frozen Food Month Sweepstakes for a chance to win up to $10,000 in prizes!
Tammie~