I received the below mentioned complimentary product either for free or a discounted price for the purpose of this post. All opinion and thoughts are 100% my own.
The one thing I love about Spring is getting my yard ready for planting my seeds. I get confused over what is a good company to get seeds from and what type to get. That is why I was thrilled when the opportunity came about to review Organic Herb Seeds Non GMO Heirloom Non Hybrid Seed (10 Culinary Varieties Pack).
About The Product~
EXTRA AROMATIC – TASTY & DELICIOUS: ENJOY deliciously fried, stewed, baked or raw. CULINARY CHEFS FAVORITE herb seeds variety pack INCLUDES FRAGRANT sweet basil, slow bolt cilantro, bright fennel, Italian flat leaf parsley, spicy garlicy-sweet chives, tangy dill, sultry oregano, aromatic sage, lemony minty thyme and Thai basil.
EASY GROW – FAST SPROUTS, HIGHEST GERMINATION RATE: Don't plant disappointment! We send ONLY SUPER HEARTY SEEDS guaranteed to sprout and grow fast, leaving you ample space to grow everything else you need from our NON GMO certified herb seeds without worry.
THRIVE ANYWHERE – INDOOR, OUTDOOR, PLANTER, GARDEN: If you're looking for organic herb seeds that love life anywhere you plant them you'll revel in how easy these grow. Simply plant according to directions in delicious soil herbs love, and enjoy how they make even those easy weeknight dishes feel special!
USA GROWN & PACKED – CERTIFIED ORGANIC – HEIRLOOM – NON HYBRID – NON GMO SEEDS – Do you know where your food comes from? Really know? Don't guess! Rest assured you're keeping your family safe by planting and harvesting your own nutrient-rich herbs when you bring these "Certified Safe" seeds home today.
100% GUARANTEED – 100% DELICIOUS: You'll love how Rebel Gardens non GMO certified herb seeds sprout, grow and taste or your money back. So go ahead, feed your family Mother Natures best when you Click Add to Cart Now.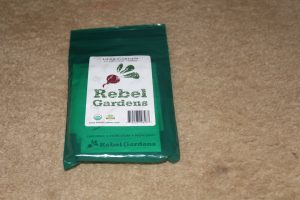 My Thoughts/Review~
I was thrilled to be able to start to plant these. I started them in peat pods inside my house. I cannot plant them in the ground unit Middle of May but this way works for me. I bought a growing light which I was surprised at how inexpensive it was. Now I am all set to grow my Organic Herb Seeds. When I thought of planting, I thought of only vegetables like tomatoes or peppers. Now I can have fresh herbs also. How asesome is that and they are going to be organic also.
I cannot wait to add these herbs to my dishes to make them more flavorful. I give the Organic Herb Seeds my thumbs up and my highest recommendation.