I received the below the mentioned complimentary product either for free or a discounted price for the purpose of this post. All opinions and thoughts are 100% my own.
If you ever thought that you did not have a need for this type of monitor, You could not be more wrong. I for one thought that I could not possibly have any use for this as my youngest is 3 years old. Let me tell you that I could not have been more wrong. I was thrilled when the opportunity came about to review the EsiCam Baby monitor camera wifi because it taught me so much.
About The EsiCam Baby monitor camera wifi~
【 Cute Cartoon Panda Camera Fit to Your Home and Kids】 It is not only a camera, it is also an artwork! The Cute Cartoon Design make it a lovely toy hidden in your room, not a standout camera in old fashion, this Toy Panda will sooth your baby !

【Wifi Pan Tilt Camera HD 360 Coverage】 Remote live video streaming with pan (345º), tilt (65º) ,watch by smart phone, tablet, and PC. Easy Install anywhere with bracket, table mount, ceiling mount, wall mount as you want. 112°wide-angle advanced glass lens combined with Digital Zoom IN /Zoom Out function create a complete 360°coverage. don't miss any corner.

【Nanny Camera Pet Cam with Powerful function】 Motion detection alarm & recording,Timing recording, two way audio,High volume speaker ,Night vision,Alarm Push Notification,Typically used as Baby Monitor, Nanny Camera,Pet Camera, Elder Monitor, Home Security and Surveillance , Business Security and etc.

【Powerful P2P camera HD 1080p wifi】 1.0 Mega Pixel high-definition video stream. Echo cancellation and noise suppression technology, the perfect two way talking effect, P2P cloud account let you can add camera just one time with your login account and can login later to see all camera you ever added by any device

【Easy Setup and Install Cam】Smart-link tech to connect to wifi in a easy way ,free download App for smart phone(IOS,Android) and PC client software, easily search stored video by Alarm video,Scheduled recording, Manual recording. Super long Extension Power Cable 1.8 m (5 ft).1 year Warranty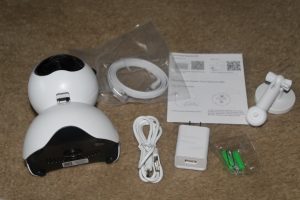 My Review/Thoughts~
The EsiCam Baby Monitor Wifi Hidden Camera Nanny Camera for Smart Phone, Toy Panda for Kids Pet Care HD 1080P Pan Tilt Motion Detection Alarm Recording Two-way Audio Night Vision Camera was so very to set up. It took me about 20 minutes and that was because I had to read the instructions. The picture is crystal clear. The audio is perfect. Everything about this product is perfect. This even works to spy on my pets buring the day, The birds in the evening and my toddler during the night. If you do not have one of these, I strongly suggest getting one as the options for using this are only limited by your imagination.