I received the below mentioned product for a discounted rate. All opinions and thoughts are 100% my own.
How do you take care of your feet? It was not until I got older that my feet had calluses and dead skin that would not come off with regular washing or soaking. I have heard of people getting pedicures but I could never justify the cost of it. I was thrilled when the opportunity came about to review Professional Foot File Set.
2 Piece Professional Foot File Set is an awesome tool that no one should be without. A few mention able points are:
Best Method To Remove Calluses: This is the best professional callus remover designed to remove thick calluses, annoying corns,cracked skin, crusty skin on toes and stubborn dead skin. It works efficiently that makes your skin feel like a newborn baby's skin, It also helps you avoid embarrassing situations like scraped your stockings due to rough skin.

Stay Away From Hurting Feet: You may have experienced foot injury and pain when using aggressive foot files. Try this pedicure foot file which is designed in the correct sharpness, Specially designed miniature blades around the foot file holes will get rid of calluses efficiently but are gentle to the skin. Safe frosted surface, dual sided pedicure tool provides all-around effective friction to remove thick calluses and dead skin without hurting feet.

Stainless Steel Pedicure Foot File With Cover: Are You concerned with dead skin sloughed from your feet making a mess? Our specially designed pedicure foot file with cover solves your concern. With this cover dead skin will be collected to avoid falling on your floor and making a mess, otherwise, the cover will protect the blade when you don't use it.

Dual Foot File Tool: Double sided coarse and fine foot file tool offers you two choices. The innovative raised surface, with sunflower pattern, coarse side is used to get rid of heavy calluses, thick cuticles, dead skin, and other related problem areas. The fine textured abrasive surface is to grind and massage your feet, to make feet smooth and soft. You can choose the side to use based on your needs.

Suitable For Wet And Dry Use: The waterproof feature assures that you can use our callus removal tool set in wet and dry conditions so that there is no need to pre-soak your feet in water. Please remember to wash your feet fully after using this callus removal tool, and your crusty feet will become smooth and soft again!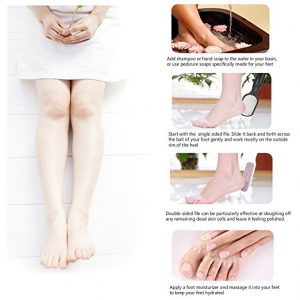 My Thoughts~
Just take it out of the package and use. It could not get any simpler than that. My feet were a mess but after using the 2 Piece Professional Foot File Set, My feet are as smooth as a baby's bottom. Sometimes I feel like I am living in a bubble as I would of never of known about this product if it were not for the this review opportunity. You can also use this product on other areas of your feet. I give the 2 Piece Professional Foot File Set my highest recommendation and my thumbs up. You owe it to your self to purchase one set of your very own. You know you will get the best price as it is sold on Amazon by going HERE.