I received the below mentioned complimentary product either for free or a discounted price for the purpose of this post. All opinions and thoughts are 100% my own.
I am so very much in love with Mrs. Renfro's Gourmet Salas. This would be the perfect Holiday gift for any Foodie on your gift list~
About The Product/Company~
In 1940, with the Depression still a vivid memory, George Renfro took a big risk for a man with a family. He quit his job selling restaurant supplies and condiments. And with little more than sheer determination and the support of his family, George and his wife, Arthurine, co-founded George Renfro Food Company in the garage of their north Fort Worth home. In their new venture, they distributed packaged spices and pepper sauces throughout Fort Worth and the surrounding areas.

With hard work, George Renfro Food Company grew steadily. By 1948, the Renfros expanded the company's product line, buying a local syrup manufacturer. Through the tireless efforts of George, his family and a small sales staff that literally sold goods from the back of a truck, the company's Dixieland Syrups soon had wide distribution throughout Texas grocery stores. Virtually every Dallas-Fort Worth restaurant purchased the syrup from George Renfro Food Company, approximately 85% of the restaurants in the Dallas-Fort Worth metroplex.

Only four short years after adding syrup to its manufacturing line, George was again looking for his next quality product. This time George and Arthurine acquired the formulas of Gold Star Foods. They reworked the ingredients, making them taste more like family recipes. Before long, George Renfro Food Company had entered the jelly, preserve, vinegar and chow chow business as well.

At the time, few Southerners could imagine eating beans or peas without homemade chow chow, especially during the cold winter months. Realizing they had one of the few commercially made, yet homemade-tasting chow chows available, the Renfros capitalized on public demand and created the popular Dixieland Chow Chow.

Response to the blend of cabbage, bell peppers, sugar, spices and vinegar was so tremendous that, by 1960, George Renfro Food Company had become a one-product business focusing exclusively on Dixieland Chow Chow.

By 1963, company sales had more than quadrupled. The Renfros now distributed their chow chow to nearly every grocery store in Texas, Arkansas, Oklahoma and northern Louisiana. As great as everything seemed, George knew there were a few problems. During the warm summer months, grocery store sales traditionally slumped. Consequently, the company created the Mrs. Renfro's label and began selling the chow chow directly to fruit and vegetable stands. The Dixieland label was exclusively reserved for grocery stores.

With this new direction, sales began to take off. Soon fruit and vegetable stands throughout Texas, Alabama, Mississippi and Tennessee were carrying the increasingly popular Mrs. Renfro's products, which by the mid-'60s included Corn Relish and Tomato Relish. There was still, however, a lack of chow chow popularity among younger consumers. For George, the time had come again to look for yet another expansion opportunity.

In 1972, shortly after incorporating under its current name, Renfro Foods, Inc., the family purchased the recipes of Olé Foods, a Mexican-style hot sauce maker. The Renfros anticipated that customers' tastes were changing, and they quickly made plans to ride the wave of interest in Mexican foods. Reworking the basic taco sauce ingredients of Olé Foods, the Renfros created a richer and tastier salsa recipe. Mrs. Renfro's salsas gained popularity fast, earning a reputation for quality flavor at a reasonable price. This quick surge in demand lead to a major facilities expansion that more than doubled the company's production operations.

With George's death in 1975, Arthurine and the children, Bill and Jack, were left to lead the company into its greatest growth period yet. The country's love of hot and spicy foods was escalating, and with this, so was the rise in demand for Mrs. Renfro's products. The product line soon expanded from the original hot or mild sauces to a variety of picantes and medium-style sauces.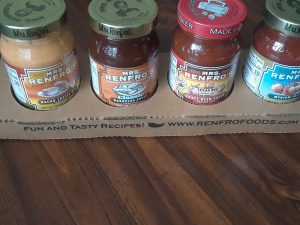 My Thoughts/Review~
We love salsa in my home and you can have the great taste of Texan hospitality delivered right to your home too. Mrs. Renfro offers salsas, relishes, peppers and more. They are always coming out with new products and flavors. I received the Nacho Cheese Dip, The Classic Barbecue Sauce, The Craft Beer Salsa and The Medium Salsa. It is funny but we used to love anything the hotter the better until we got in our 50's and now we can handle only slightly hot. But that's the thing about Mrs. Renfro. You can get the heat in a level you want or don't want. This has opened up my world to trying new flavors that I would otherwise would not of. About the products I received- Everyone was tasty and flavorful with just the right amount of ingredients.
I give these products my highest recommendation and my thumbs up. You owe it to yourself and that Foodie on your Holiday gift list to order some by going HERE.
Tammie~