I received the below mentioned complimentary product either for free or a discounted price for the purpose of this post.  All opinions and thoughts are 100% my own.
About The Product/Company~
•Support SD Card: Micro SD card, class6 or above, no more than 32GB

About Audew

Audew: About this brand, It is always devoted to selling car and motorcycle parts, mainly front grill, car MP3, gear shift knob, car mirrors, car lights, etc. The purpose of our brand always provide high quality and low price products for everyone. Help your beloved car and provide the sincerest service for every customer. Your encourage is our motivation to discover the trend of fashion and create your dreaming products. Make your car keep on running, make your life better.

Safer Driving with Audew Wide Angle Car Dash Camera~
•Camera: SONY IMX323 SENSOR
•View of Angle: 170°wide angle
•Screen Size: 2.7 inch LCD
•Video Resolution: ≥1080P
•Image Format: JPG
•Video Format : MOV (loop recording)
•Battery Capacity: 320MAH
•TF Max. Capacity: 128G
•External Dimension: 89*52*31mm

Product Features:
The dash cam is smaller than a credit card – Easily concealed, and will not distract you while driving.
Excellent night vision – The dash cam captures smaller details, such as license plate numbers and model of other cars.
Loop Recording – The car camera will be recording continuously and seamlessly, the stored files will be splitting into 1,3,5 or 10 minute recordings.
Parking Mode – Automatically begins recording if vibration or movement is detected.
Crashing induction detection function?shut-off, high, middle, lower- collision / vibration trigger.
Available to display the preview for selfie, and capture ideal picture.

Urgent Lock File Button – Emergency lock button, the dash cam allows to lock the current video footage with a single button.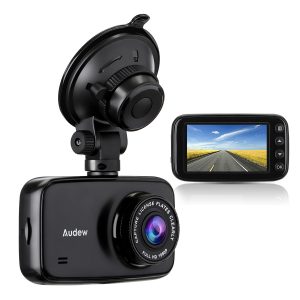 My Review/Thoughts~
I really think it is funny how modern technology has over taken our lives. I was probably the last one to own a computer let alone a laptop and please don;t get me started on music as I still play records. Now, I really never thought I would have use for the Audew 2.7" LCD HD 1080P Car Dash Cam but that was until I received it to review for inclusion in my holiday gift guide. In today's day n age, You cannot be to careful. I started to think of all the ways that the Audew 2.7" LCD HD 1080P Car Dash Cam could be of a big help to me. Say you were in a car accident this could help by recording the damage. Say you were pulled over by the police, This could help record the incident. Or maybe you see something that you just want to record/save just because. Just because you may think it is pretty or you just need to record it to show someone later. This was the easiest to use and mount on your windshield. The video quality is exceptional. In my opinion, The field of view is more than the other dash cams on the market. It even has collision locking. I am in love with the Audew 2.7" LCD HD 1080P Car Dash Cam and I know you will be too. If you have someone on your holiday gift list who is always buying the latest in technology, Then you need to get them this product or buy one for yourself by going HERE.
I give the Audew 2.7" LCD HD 1080P Car Dash Cam my highest recommendation and my thumbs up.
Tammie~