I received the below mentioned complimentary product either for free or a discounted price for the purpose of this post. All opinions and thoughts are 100% my own.
About The Product/Company~
The PurpleTrail service is based on the idea that we are all different, and there is a designer within each of us. We know that our customers love to create their own custom invitations, stationery and gifts – we see the creative ideas every day. PurpleTrail provides you with inspiration and tools, and lets you do the rest! We have loaded the site with professional designs to choose from. You can easily pick one; add your details and you are done. Or, change it up a bit by moving things around and adding special touches. The possibilities are endless. However you go about designing your cards and invitations, we just want you love the end result.

Customer satisfaction is always our number one priority. Our customer service team handles every phone call and email with the same level of care. We see the person and event behind every order. It all comes down to the fact that we want you to love your invitations and cards. We know that you have many choices when searching for custom invitations, stationery, gifts online and we appreciate you giving PurpleTrail the chance to show you how great our service is. We understand it's not just another birthday party invitation, holiday card or baby shower invitation; it's your special event and you deserve the best.
Available in 2 sizes
6 layout choices
2 pages per week
Clean spacious design with a lot of designs to choose from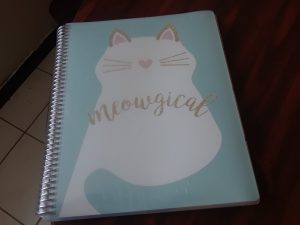 My Review/Thoughts~
O.K., I don't know where to start because I am just over the moon about the Purple Trail 2019 Weekly Planner.  I got to design my ow planner which I did according to how I work because I do not work like you do nor should I and nor should you. We are all different and our planners should be as well. I picked my cover and since I am a cat person, That is what I went with. I then picked if I  wanted it hard cover or soft. I then picked how I wanted the pages laid out. The whole process was so easy and they were there to help with any questions I had every step of the way. If you have someone on your Holiday Gift list that has everything or you do not know what to get them, Something from Purple Trail will put a smile right on their face.
I give the Purple Trail 2019 Weekly Planner my highest recommendation and my thumbs up. You can go HERE to order one for your very own or that special person on your gift list.
Tammie~