review came about. I received the below mentioned complimentary product either for free or a discounted price for the purpose of this post. All opinions and thoughts are 100% my own.
Now that we own our own home, The major thing I am super excited about is planting my garden. Sure you can plant one if you rent but it's not the same. I was thrilled when the Seed Starter Trays came about. Starting seeds indoors to get seedlings to plant just makes sense.
About The Product~
ECO-FRIENDLY – Our Peat Pots are made from all natural and 100% biodegradable peat. NatraPots plant trays were designed to break down over time helping to prevent harmful waste to our environment but allowing your seeds to fully germinate.

PREVENT TRANSPLANT SHOCK – By allowing the roots to grow directly into the pots themselves, our nursery pots help prevent plant shock caused by transplantation giving your seeds stronger, healthier roots.

IDEAL FOR SAPLINGS AND STARTERS – We designed our pots to be the perfect size and structure for plant germination allowing for proper aeration; making NatraPots the perfect plant tray for any flower, fruit, or vegetable!

DURABILITY – We designed our seed starter pots with our customer's concerns in mind! Our pots are resilient enough to hold together when watering your seeds yet the peat fibers are specially woven to allow seeds to properly germinate.

REUSABLE PLASTIC MARKERS – Each pack includes 12 reusable plastic markers so you can easily label each individual peat pellet. Simply use any standard dry erase marker to label them and easily wash with soap and water.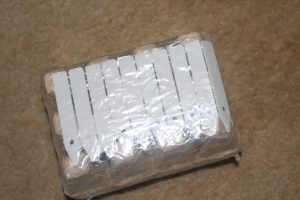 My Review/Thoughts~
It just makes sense to start your seeds inside because you do not have to wait for the germination time as you would already have your seedlings. I love everything about these trays. There also is nothing to dislike. These are perfect. When it comes to the Seed Starter Trays, I will buy them next year and do this again.
I give the Seed Starter Tray my thumbs up and my highest recommendation.
Tammie~