I received the below mentioned complimentary product either for free or a discounted price for the purpose of this post. All opinions and thoughts are 100% my own.
I will be the first to admit that my feet are terrible looking. I have heard all of the talk about feet mask and this is why I was thrilled when the opportunity came about to review the Foot Peel Mask Foot Exfoliating & Whitening Mask, 2 Pairs by BeaGirl.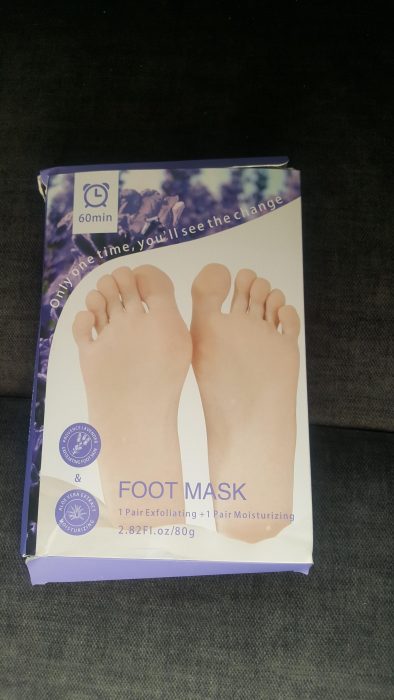 About The Foot Peel Mask Foot Exfoliating & Whitening Mask, 2 Pairs by BeaGirl~
Get Baby Soft Feet in 1-2 Weeks — No need to spend money and time for the expensive salon foot treatment, this foot exfoliating mask can help peeling away rough and dead skin to unveil brand new baby soft feet in 1-2 weeks at home!
Easy to Use — Simply put on the exfoliating booties for the recommended time period and remove it, the treatment will start to work. Dead skin will automatically peel off on its own within one week, and then you can use the whitening & moisturizing mask to further whiten and soften your feet.
Safe and Pain-Free — Our exfoliating peel mask & whitening mask are made with natural ingredients and premium techniques, they can safely penetrate into the dead skin cells to break down and remove the outer layers. The whole process is zero pain.
100% HAPPY CUSTOMER ! — No obviously result on you feet after using this foot care mask? Just contact us and we will make things right for you! Your purchase is covered under our 100% Money-Back Guarantee for your 100% satisfied shopping experience.
Suitable for All Skin Type — This feet peel off mask is totally safe for all skin types and great for both men and women, pamper the feet of your loved ones and yours with our natural foot exfoliant mask!(This foot mask can fits up to size 13 in men.)
My Review/Thoughts~
Like I said, I never knew just how scaly and old my feet looked. That was until I reviewed Foot Peel Mask Foot Exfoliating & Whitening Mask, 2 Pairs by BeaGirl. It could not have been so easy to use. The instructions were very simple to understand. I know I will be buying this in the future as the price is perfect for me. All you need to do is just try it one time and you will not believe your eyes in the awesome transformation of your feet. Like I said, Just try it once and you will be hooked.