I received the below mentioned complimentary product either for free or a discounted price for the purpose of this post. All opinions and thoughts are 100% my own.
My husband is obsessed with keeping our cars clean. This is not high on my priority list but it is not his. I look for ways to make doing this job easier for him. I was thrilled when the opportunity came about to review the Mini Portable Car Interior Cleaner.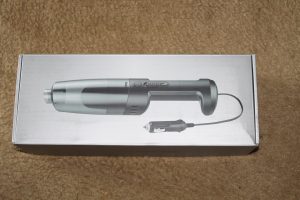 About The 
Mini Portable Car Interior Cleaner~
?6PC Attachements,Best Car Vacuum Makes Cleaning a Breeze! –We provide an extra free dual-end brush for air conditioner outlet,elbow tube for hardest areas to reach, and long hose extention (compatitile with other nozzles),flat crevice attachment for liquid, brush nozzle for pet hairs/carpets and a carry bag for easy storage! Everything you found in the market, we also provided! If you are looking for a light min portable handheld vacuum,look no further ! Get your professional vacuum here

?LIGHTING SALE ? Only 7 Days! ⚡Save $5 Add To Cart Immediately⚡Limited Quantity,Deal Will Expire Anytime!Strong Amazing Suction :Benefit by high precision curved fan blades and DC motor,this mini vacuum for car provides stable 120w high power 6500pa suction, 500L/min air flow and 33000r/min rotating speed (*Data from laboratory).Besides,with a smaller suction port than others,this portable vacuum provides stronger concentrated air flow !! You will love it

?Intelligent Voltage Detection,Protect Car Battery–remind you to replace car battery when voltage under 11V. Making drive safer and better ! NOTE: MAKE SURE START THE CAR ENGINE TO GET MAX AND BEST SUCTION

?Compact Design,Diameter in 3.2″,Super Mini Vaccum (only1.4 lb)–make it easily reach to seat bottom,door gap,cup holder or any hardest areas to reach.Our handheld vacuum cleaner weight 1lb less than other in the market,you won't feel tired for long time using!

?Durable Washable Filter:Debris may clog onto a stainless filter, however all of these worries didn't happen on a non-woven fabric filter which can also be washable !! Came with Unbeatable Top1 Service "1-Yr Free Replace Warranty"and lifeime support ! ?Reach Us (raniaco.service@gmail.com)?We Stand Behind Our Products ! Buy With Confident?

My ReviewThoughts~
I really thought all car vacuums were the same but that was until I tried the Mini Portable Car Interior Vacuum Cleaner. This vacuum is light weight which is a major bonus. As in the picture above, You can see our car seats were very dirty until we started the vacuum up. It has enough suction to clean the seats and floor perfectly. It also comes with 6 piece accessories that allow you to get into the tiniest of grooves. It maneuvers like a dream. I have even started to do the vacuuming. That is how easy it is to use. It plugs right into the cigarette light slot so you always have power. It also comes with a nifty carrying case so that you can keep all the pieces in the same place. The carrying case has a very sturdy zipper. We own another car vacuum which is big and bulky that only picks up the big stuff not the fine gritty stuff.
I highly recommend the Mini Portable Car Interior Vacuum Cleaner and give it my thumbs up.
Tammie~