I received the below mentioned complimentary product either for free or a discounted price for the purpose of this post. All opinions and thoughts are 100% my own.
I do not know why but I had wanted a laminator machine for ages. I was confused as to which one to get. I was confused as to would I really have use for it and I was confused as to how much would it cost. This is why I was thrilled when the opportunity came about to review the 

Thermal Laminator Machine for A3/A4/A6, Laminating Machine with Two Roller System.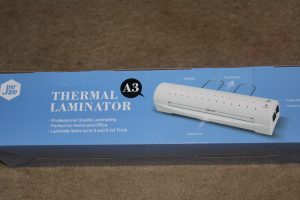 About The Product~
FASTER Warm-up: Jieze laminator machine only takes 3-5 minutes to warm up, definitely time-saving while laminating.

QUICKER Laminating: Hot and Cold 2-Roller laminating system satisfies different pressure requirement with an amazing speed of 10.2 inch/min.

EASIER to use: Jieze laminator machine with different pouch thickness settings and single operation switch, quite easy for the beginner to use and suitable for applying in home, school and office.

PERFECT Function: Jieze laminator machine with maximum width 12.9 inch (A3 size paper) and speed of 10.2 inch per minute. Supported thickness of laminating item is up to 0.02 inch.

MORE Giveaways: In order to reward buyers, we specially prepared 20 laminator pouches for everyone, we wish bring a better use experience and satisfaction for you.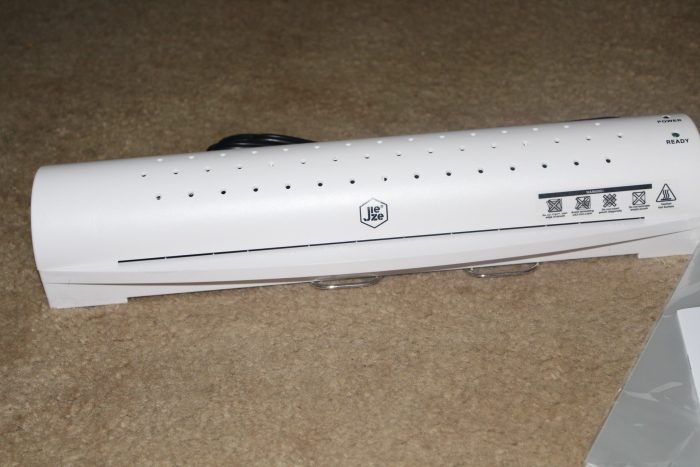 My Review/Thoughts~
As I removed the laminator from the box, I began to picture all the things in my home that needed laminating. I have a placard sign that is starting to fray from me putting it in and out of my window. My recipe cards are doing the same thing and then you have those occasional items that pop up from time to time that could benefit from being laminated. The Laminator Machine was super easy to set up and use. The instructions were very easy to follow. If you think that you do not have any use for one, Think again of all the money you will save.
I give the 
Thermal Laminator Machine my highest recommendation and my seal of approval or my thumbs up.
Tammie~