I received the below mentioned complimentary product either for free or a discounted price for the purpose of this post. All opinions and thoughts are 100% my own.
My husband and I both wear glasses. I always have problems with mine. The glass falls out. The screws seem to always fall out. I am blind if my glasses are not working. I was thrilled when the review opportunity presented itself to review the Eyeglass Silicone Nose Pads.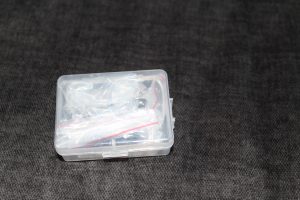 About The Product~
✔Package included: 10 pairs air bag nose pads, 6 pairs glasses ear hook grips,10 pairs tiny screws, 1 piece micro screwdriver, and 1 piece plastic storage box.

✔Eyeglass nose pad and temple tips sleeve retainer materials: Made of super-soft, super-flexible pure silicone, provides you comfort when you wearing glasses.

✔Useful in our life : These eyeglass nose pads help your glasses fit for your nose comfortably and steadily, make glasses not slide down your nose easily, and eliminate any pain or discomfort.

✔Silicone nose pad size: 15 mm in length, Mount type: Screw-in mount type

✔Anti-slip: Soft silicone glass spectacle retainers, sunglasses retainers reduces slippage and prevents loosing glasses from face, great for working, daily wear or outdoor activities.
My Review/Thoughts~
I am blind as a bat if I don't have my glasses on. That was until I reviewed the Eyeglass Silicone Nose Pads. This kit has it all. From the screws to the screwdriver, I love everything about it. It is so user friendly. Because I cannot see when a lens falls out, Eric fixes my glasses. He has trouble holding tiny things but he loves the Eyeglass Silicone Nose Pads. It is a complete kit with everything you could ever need to fix your glasses. I think I love the silicone nose pads as they are soft and flexible. My old nose pads were hard and rigid.
I give the  Eyeglass Silicone Nose Pads my thumbs up and my highest recommendation.