When you first realize that you're starting to fall for someone, do you remember the rush and intensity of emotions? How everything feels straight out of a movie? This period until the first months of your relationship is called the honeymoon phase. And there's no explanation necessary why everyone praises it so much.
But what happens when it's over? Do you leave your partner to find the same rush and spark with somebody else? I hate to break it to you, but the "can't eat, can't sleep" type of love in the honeymoon phase is bound to end. But what happens after that, it's what makes relationships so fulfilling, and so necessary to make us all feel alive.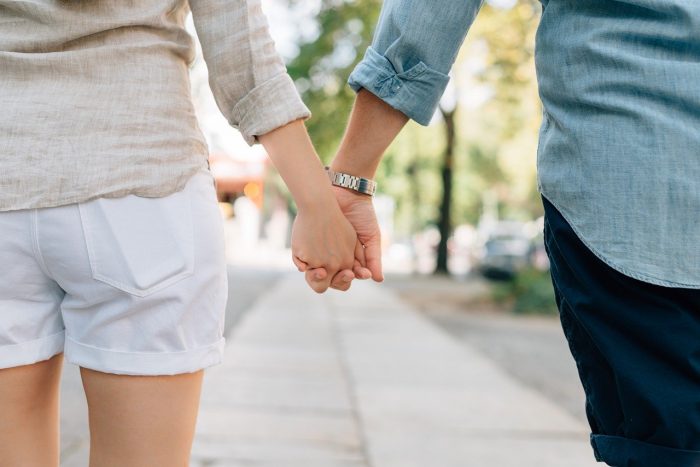 Seeing Each Other Naked
I mean this first one literally and figuratively. When our relationship was just starting, we're both covered in clothes, the one we chose to be the best from our closets. We're always making sure that we're looking as our best selves, and never showing the ugly, effortless versions.
Figuratively, we are indeed wearing clothes. To him, I might be the most patient and healthy person on earth even though I always break my resolutions and love to succumb to my midnight cravings of Oreos. And as for me, I always see him as someone who loves kids and appreciative of romantic comedies, unlike the boyfriends of my best friends.
One year into our relationship, and we showed our bare selves to each other. It wasn't even a planned thing. We both didn't expect that we'll get passed the facades. Yes, we both have an idea that we like each other, but it's still a scary and slow process to lose the clothing and covers.
To show yourself naked physically is not something I'm comfortable at. I think all of us have our insecurities that we are not proud of, so we hide them as much as we could. Intimacy is not a problem, but letting your guards down and letting the other person see everything puts my mind in a spiral of what-ifs. But I'm glad he proved me wrong. 
Every scar, every mark, every part that both of us considered ugly is not ugly to the other person. And this doesn't end physically. Once your honeymoon phase is over, both of you have stopped pretending to be perfect. And let me reassure you this, it will only get better from there.
Eventually, you will reach a point where you feel more of yourself, without having to worry about what your partner will think. And nothing is more satisfying and amazing when you realize that you are not as bad as your mind makes you think to be. Loving someone completely, including their flaws, is more genuine compared to being blindly infatuated when you're just starting to know someone. Imagine how comfortable it is to say you can't go on a date because you have food poisoning rather than lying that you have a cute little cold?
Tag Team Fights
Are you familiar with the quote, "When you and him are fighting, you both need to remember that it's you two versus the problem, not you versus him"? The longer that you are with another person, the more understanding both of you will be with each other. 
After the blinded honeymoon phase, you will view your misunderstandings more maturely. As I have said earlier, you've lost both of your fake facades. And as a result, you'll find it much easier to tell them how you really feel and vice versa. For the receiving end, you'll also be much more open in putting yourself in their shoes. 
One of the best things after the honeymoon phase is how comfortable you are in telling what you truly feel. Remember that you can't expect the other person to do something and get mad at them for not doing it. It's much better to face any potential misunderstandings right away rather than avoiding these instances only for them to accumulate and explode. 
I know that my partner is not comfortable being around my family due to a past disagreement. But we both meet halfway that he can tolerate being around Christmas, in exchange that he will leave earlier than me before New Year's. He explained his side on why he needs to do that, and I also explained my side that I will feel bad if he avoided giving my family another chance altogether. 
It's amazing how after explaining our sides on an issue draws us closer to each other. And if it will help you prepare for your future arguments, don't be afraid to have some space first. Do not force yourselves to resolve a conflict when both of you aren't in the right mindset yet. And because both of you feel secure that you will solve a problem, you don't have to worry about not settling it right away. 
No Conclusions, Just Consistency
Some people have the wrong idea that when the mysteries of the other person are no longer a mystery, the relationship will get less exciting. And if you're no longer looking forward to be around your significant other, you will eventually lose interest in them. 
However, just because you know your partner well doesn't mean that your relationship will also get boring. We keep everything exciting by surprising each other every once in a while. For example, my partner knows that I have no talent in the kitchen. So seeing his eyes lit up when I surprised him one day with a sous vide steak makes my practices using a vacuum sealer like these worth it. 
My point is, you can always discover ways to improve yourself along the way. And because you know your partner well, it's going to be much easier for you to be consistent. In a way, I think it helps that we both know what we want in the relationship. We don't require each other to give extravagant gifts, but a simple effort like learning our comfort foods is enough to keep us reminding each other of their importance. Just because the honeymoon phase is over, doesn't mean the romance has to end too. 
Make it Work, Even if it's Hard Work
At the end of the day, love is a choice. Each morning when you wake up, you're choosing your significant other over and over again. Regardless of their quirks and even if we want to pull they hair sometimes, the good moments overcome the bad moments. 
When you aren't blinded by your expectations and assumptions that the other person is perfect, that's when you know that your feelings for them are true. We know that we will resolve our differences and understand each other at times where it gets hard.
Tammie~