I received the below mentioned complimentary product either for free or a discounted price for the purpose of this post. All opinion and thoughts are 100% my own.
It is funny that we think that we are either cool, warm or just comfortable. The one thing is that we never think of is our pets. When it comes to our dogs and cats, They always must come first. In our house our pets are a part of our family. That is why we want them to be as comfortable as we can make them.
Sometimes our lab thinks it is 0.k. to stay outside in the heat. I can know just lay the Rywell Self-Cooling Mat for Dogs on our back porch for her to lay on and stay cool. It is Endothermic Color Changing Arc-Chill Cooling Fiber – Washable Non-Toxic Summer Pet Outdoor Bed, Non-Slip &Foldable. It is just perfect for her to plop on to keep cool.
About This Item~
🐶[Experience the difference with our upgraded Cooling Mat]Now featuring enhanced cooling properties and superior durability! Made with upgraded materials, this cooling mat is even cooler and more effective at keeping your furry friend comfortable during hot summer days. Its sturdy construction ensures it will last for many seasons to come. With state-of-the-art cooling technology and a vivid color-changing effect, our dog cooling mat is truly unmatched.
🐶[Help your dog beat the heat with Rywell self-cooling dog mat] Featuring Arc-Chill natural cooling fabric from Japan, this mat effectively lowers the temperature by 3-5°C (5-9°F), helping to prevent overheating and dehydration. Perfect for hot days at the beach or in the backyard, simply place it on your pet's favorite spot and let them enjoy the cooling sensation. This mat is built to last and will be a trusted companion for many summers to come.
🐶[Get rid of messy and potentially harmful cooling mats for your furry friend]Switch to Rywell ! Our cooling mat is made from non-toxic and non-irritating fibers, completely free from harmful chemicals. you won't have to worry about your dog ingesting harmful substances if it chews on the mat.Rest assured that your pet is resting on a safe and comfortable surface that will keep them cool and refreshed. this cooling mat is the ideal choice for pet owners who value both safety and quality.
🐶[Experience the magic of Rywell color-changing dog bed mat] With our innovative endothermic color-change technology, the mat lightens in color when the temperature reaches 95°F, indicating that it's effectively absorbing heat to keep your pet cool and comfortable. This amazing feature not only looks cool, but it lets you witness the heat absorption and cooling process in action. Get one today and treat your furry friend to the ultimate cool and comfortable lounging experience!
🐶[Get a portable and versatile pet bed with our cooling mat] Its non-slip particle design protects your furniture from spills and stains, while its lightweight and foldable design makes it easy to transport and store. Use it as a kennel mat, car seat cover, or cozy resting place for your pet. Perfect for larger breeds like Labradors and Golden Retrievers, you can be sure that your furry friend will enjoy years of comfortable use from this versatile pet bed mat.
🐶[Washing & Care Instructions]Our dog cooling pad mat can be machine-washed or hand-washed in cold water. It's durable and will not deform, even after multiple washings. After washing, please hang it in a cool, ventilated place. WARNING: Please DO NOT bleach, iron, or tumble-dry! DO NOT USE IT IN SUNLIGHT FOR A LONG TIME—the sun's UV rays will destroy the cooling fabric.
The pictures below are of my cat as my dog is nowhere to be found but she liked just as well as my dog does.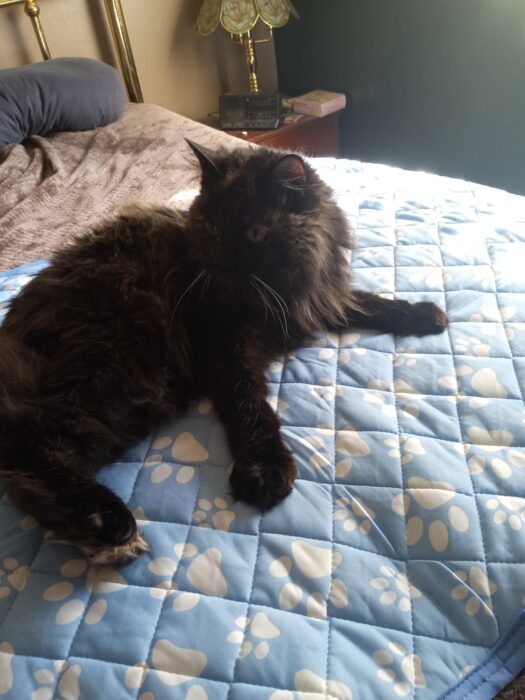 The Rywell Self-Cooling Mat for Dogs has a discount code for 5% off if you use the code which is 9RGUD4XY, which is valid until December 31, 2023.
Tammie~